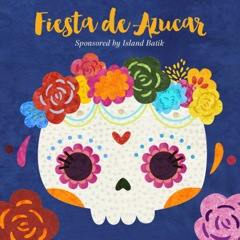 How goes your Fiesta de Azucar so far? Are you enjoying the blocks and posts from my designer friends?  I love hearing about what inspires other designers to create.  I am working hard on new creations for Fall Market as we speak so it so great to take a break from my own creations and get inspired.
This week's Block #4 was created by Cheryl Sleboda of Muppin.com.  You can find Cheryl's block for sale on Crafty with the other designers by searching for Fiesta de Azucar or on Cheryl's Etsy Shop.  Click on over to Cheryl's blog and read all about what inspired Cheryl to create her block.
Don't forget to check back next Saturday when the Block 5 will premier right here on this very page.  I can't wait to show you my block and tell you all about what inspired the dedication of my block.
Here is a list of all of the participants in the Fiesta de Azucar.  Each week we will update the list with links to the blog posts where you can find their blocks.
July 1 – Block #1 – (Cohost) Terri Sontra of Purple Moose Designs
July 8 – Block #2  Joanne Hillestad of The Fat Quarter Gypsy
July 15 – Block #3 – Vicki Hansen of Cranberry Pie Designs
July 22 – Block #4 – Cheryl Sleboda of Muppin.com
July 29 – Block #5 – Penni Domikis of Cabin in the Woods Quilters
Aug  5 – Block #6 – (Cohost) Tammy Silvers of Tamarinis
Aug 12 – Block #7 – Kate Colleran of Seams Like A Dream
Aug 19 – Blocks #8 – Susan Emory of Swirly Girls Design
Aug 26 – Block #9 Trisha Frankland of Quilt Chicken
Sept 2 – Border Option #1 – Tammy Silvers of Tamarinis
Sept 9 – Border Option #2 – Terri Sontra of Purple Moose Design
Join us Every Saturday for a new block.
Happy Quilting
Penni