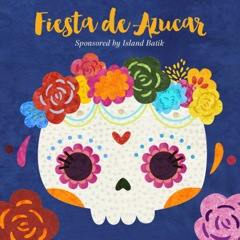 Welcome to Week 10 in the Fiesta de Azucar Quilt Along Blog Hop.  It's almost time to give away all the prizes.  Have you logged onto the Fiesta de Azucar Facebook Group (Fiesta de Azucar 2017)?  If you haven't done so you need to.  Post pictures of your blocks and enter to win prizes and giveaways from all of the designers and our sponsors (Island Batiks and Aurifil Threads).  Don't miss out on that opportunity.
Border # 2
This week we head back to Tamarinis and visit with Co-Host Tammy Silvers for her alternate Border #2 for setting your quilt.  As always, you can find the pattern on Craftsy available for download.  Perhaps you could even mix up the two borders and use parts of each.  Check out the post for Tammy's border HERE.
I can't wait to see sugar skull photos posted from all of our participants and followers during this hop.  It has been a pleasure posting each week.  Come back here any time to find the links.
Blog Hop Participants
Below is a list of all of the participants in the Fiesta de Azucar.  Each week we will update the list with links to the blog posts where you can find their blocks and borders.
July 1 – Block #1 – (Cohost) Terri Sontra of Purple Moose Designs
July 8 – Block #2  Joanne Hillestad of The Fat Quarter Gypsy
July 15 – Block #3 – Vicki Hansen of Cranberry Pie Designs
July 22 – Block #4 – Cheryl Sleboda of Muppin.com
July 29 – Block #5 – Penni Domikis of Cabin in the Woods Quilters
Aug  5 – Block #6 – (Cohost) Tammy Silvers of Tamarinis
Aug 12 – Block #7 – Kate Colleran of Seams Like A Dream
Aug 19 – Blocks #8 – Susan Emory of Swirly Girls Design
Aug 26 – Block #9 Trisha Frankland of Quilt Chicken
Sept 2 – Border Option #1 – Terri Sontra of Purple Moose Design
Sept 9 – Border Option #2 – Tammy Silvers of Tamarinis
Join us Every Saturday for a new block or border.
Happy Quilting
Penni