Welcome To the Fiesta de Azucar!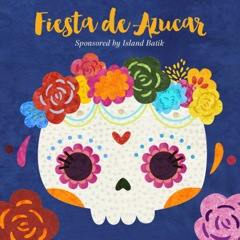 … our Sugar Skull Celebration.  I'm excited to bring you the collaborations of 9 designers sponsored by Island Batiks fabrics and Aurifil Threads.  Over the 11 weeks we will bring you our various Sugar Skull designs and the inspiration behind the designs, fabulous fun and prizes and the patterns to create them all.  Patterns will be available for PDF download on Craftsy, Etsy and/or our individual sites.  There will be giveaways and information on our blogs.  The last two weeks will provide two alternate layouts for putting the quilts together.  You can join the Facebook Group by heading over HERE and clicking to JOIN the group or searching on Facebook for: Fiesta de Azucar 2017.
First up this week will be my friend Terri Sontra, Head Moose at Purple Moose Designs.  Terri will kick off the Blog Hop with her Painted Lady Sugar Skull. Head on over to Terri's blog and let her tell you all about her inspiration for her block and where to find the pattern to make your own.
July 1 – Block #1 – (Cohost) Terri Sontra of Purple Moose Designs
July 8 – Block #2 Joanne Hillestad of The Fat Quarter Gypsy
July 15 – Block #3 – Vicki Hansen of Cranberry Pie Designs
July 22 – Block #4 – Cheryl Sleboda of Muppin.com
July 29 – Block #5 – Penni Domikis of Cabin in the Woods Quilters
Aug  5 – Block #6 – (Cohost) Tammy Silvers of Tamarinis
Aug 12 – Block #7 – Kate Colleran of Seams Like A Dream
Aug 19 – Blocks #8 – Susan Emory of Swirly Girls Design
Aug 26 – Block #9 Trisha Frankland of Quilt Chicken
Sept 2 – Border Option #1 – Tammy Silvers of Tamarinis
Sept 9 – Border Option #2 – Terri Sontra of Purple Moose Design
Be sure to check back each week to see what each designer has to share and to see what great prizes we have in store donated by our designers and sponsors.  Feel free to visit with all the designers but note that links to the sites above will only connect to the blogs when the actual posts are ready.  Be sure to ENTER TO WIN!!!! some prizes during the blog hop.  Rules are as follows.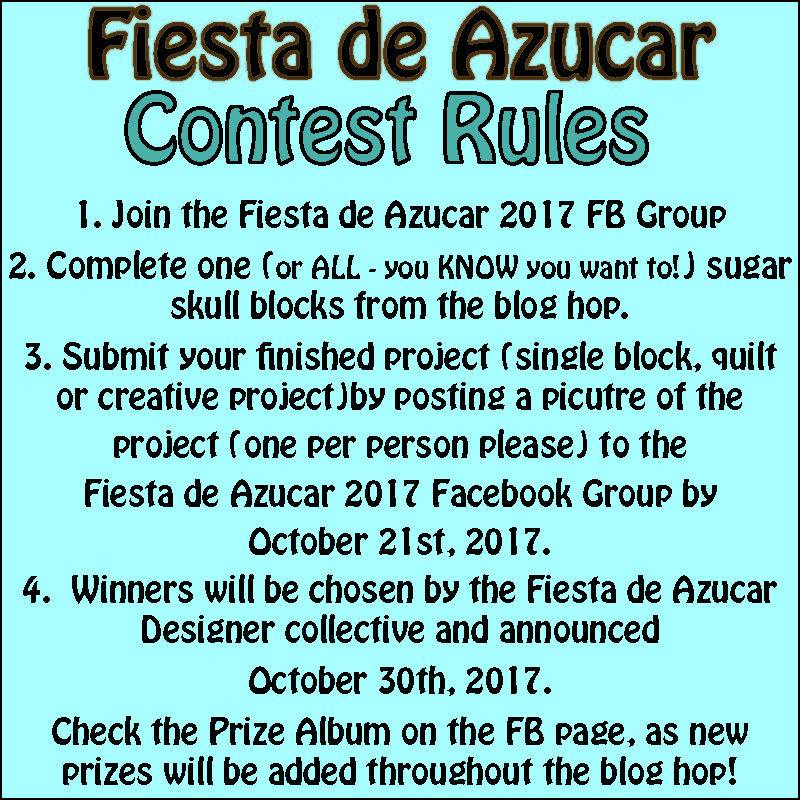 For those wishing to shop in our online store… don't be discouraged.  The store currently says "closed for maintenance"… our crew is on a much needed rest.  You never know… we may periodically post some pics… but we will reopen the shop on July 10th for browsing and we will definitely be open in time for downloading our block on the Blog Hop.
Happy Quilting and Enjoy the Fiesta!!!