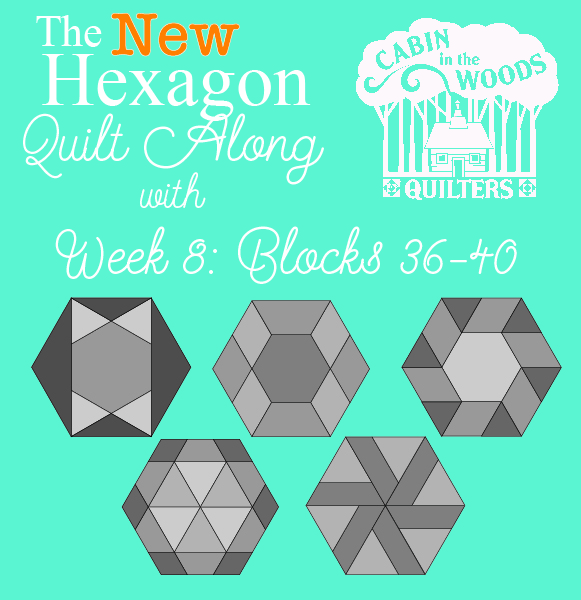 Welcome to Week 8 of the New Hexagon Quilt Along featuring the NEW English Paper Piecing Templates by Cabin in the Woods Quilters and fabrics by ADORNit.  This week we were able to spend the week with quilters from all over the world who gathered in Lancaster, Pennsylvania for Lancaster Quilt Week.  This is a lovely event for quilters of all skill levels to come together for retreats and day trips, shopping and stitching. All the local businesses and hotels benefit greatly from the mass of visitors descending upon Amish country to celebrate this tradition.
For those that attended the event, they were able to see the quilt top for this Quilt Along on display.  I won't be posting a pic on the web until the end of the Quilt Along so for those following on the web… everything will still be a surprise.  Lots of quilters were able to see the templates up close and see all the beautiful rosettes made with our 5/72˚ templates from patterns in the Millefiori Quilts books.
This week we are taking a break from tips and tricks because of our time away at the show. We spent the week packing and setting up, spending time with customers and helping them shop, breaking down and traveling back home and filling pre-orders for quick shipment so we will save new topics for next week.  But as usual we have drafted out the next five blocks in the series so that you may continue on with the Quilt Along.
Good news this week… no strange or odd blocks so np need for special printables. Also, we have added no new sets this week. As you can see, once you have purchased your sets you will use them over and over again.  Not only throughout this quilt but also throughout the 365 New Hexagon Perpetual Calendar and the Millefiori Quilt Along.  Also don't forget that although we are really only using 6/60˚ templates during this quilt along, we have 5/72˚ and 4/90˚ templates currently in stock and are working on a 8/45˚ for the upcoming month.
Don't forget… all sizes of the same size work together, they are 1/4″ thick acrylic with 3/8″ seam allowance halo and will also work with your long arm or domestic sewing machine ruler foot for machine quilting.  Versatile templates for all your needs that will only need to be purchased once.  Now on to the best part… the blocks for this week.
Block 36: Elly…
was created using the 1 3/4″ 120˚ Isoceles, 60˚triangle and hexagon templates from the Large Sets and the 3″ 120˚ Isoceles triangle also from the Large set.
Block 37: Monette…
was created using the 1 1/2″ half hex, hexagon and 6 pointed star templates from the Small sets.
Block 38: Sonja…
was created using 1 1/2″ 6 pointed star, 60˚ triangle and hexagon templates from the Small sets.
Block 39: Jennifer…
was created using the 2″ 60˚ Triangle from the Large set and the 1″ 6 pointed star and half hexes from the Small sets.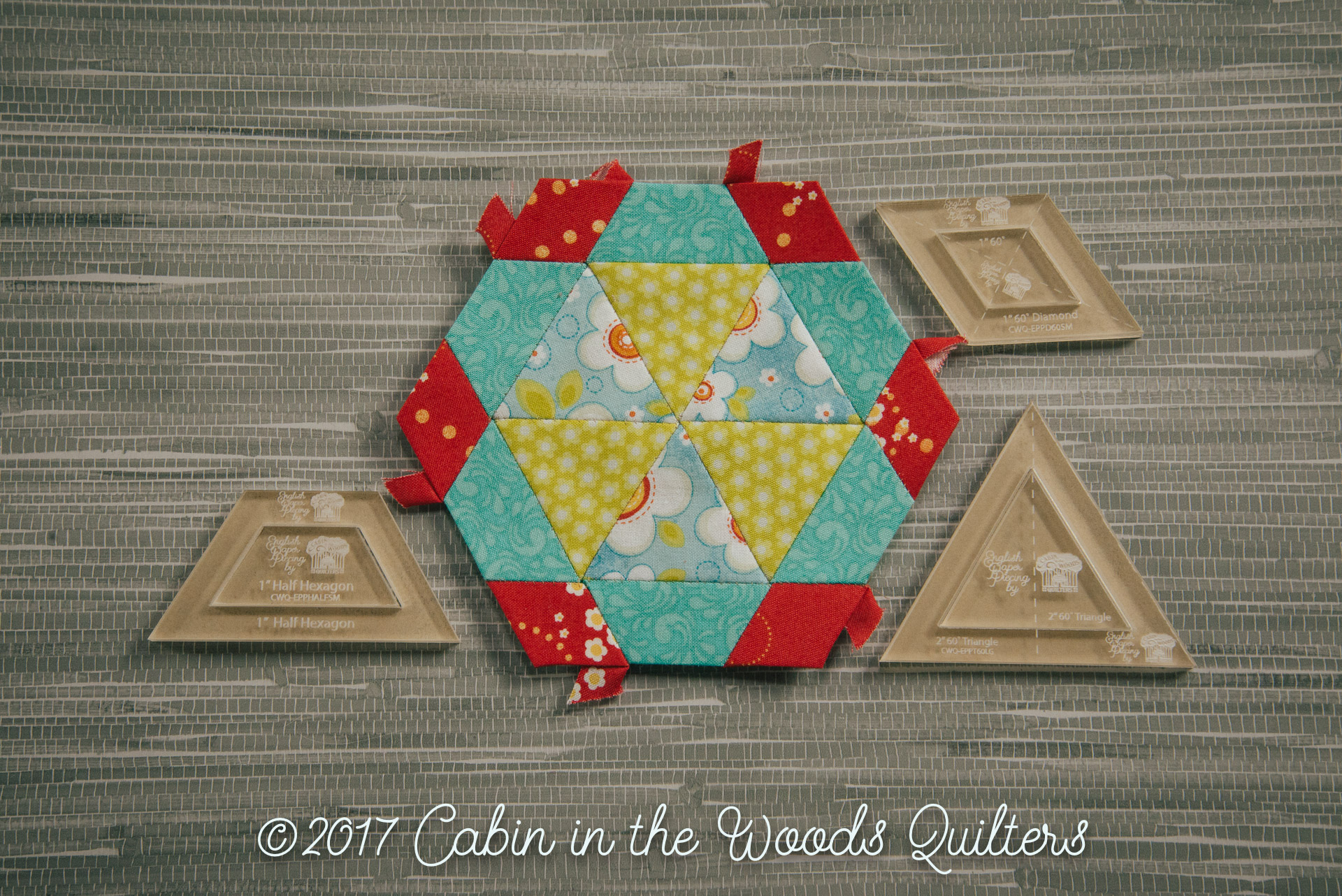 Block 40: Niki…
was created using the 3″ 60˚ Triangle from the Large Set.  First I pieced a 2″ strip of fabric with a 2 1/2″ strip of fabric and then cut the Triangles from the strip sets.  The block photo shows each triangle as a different color so I chose to make mine from a different group of scraps.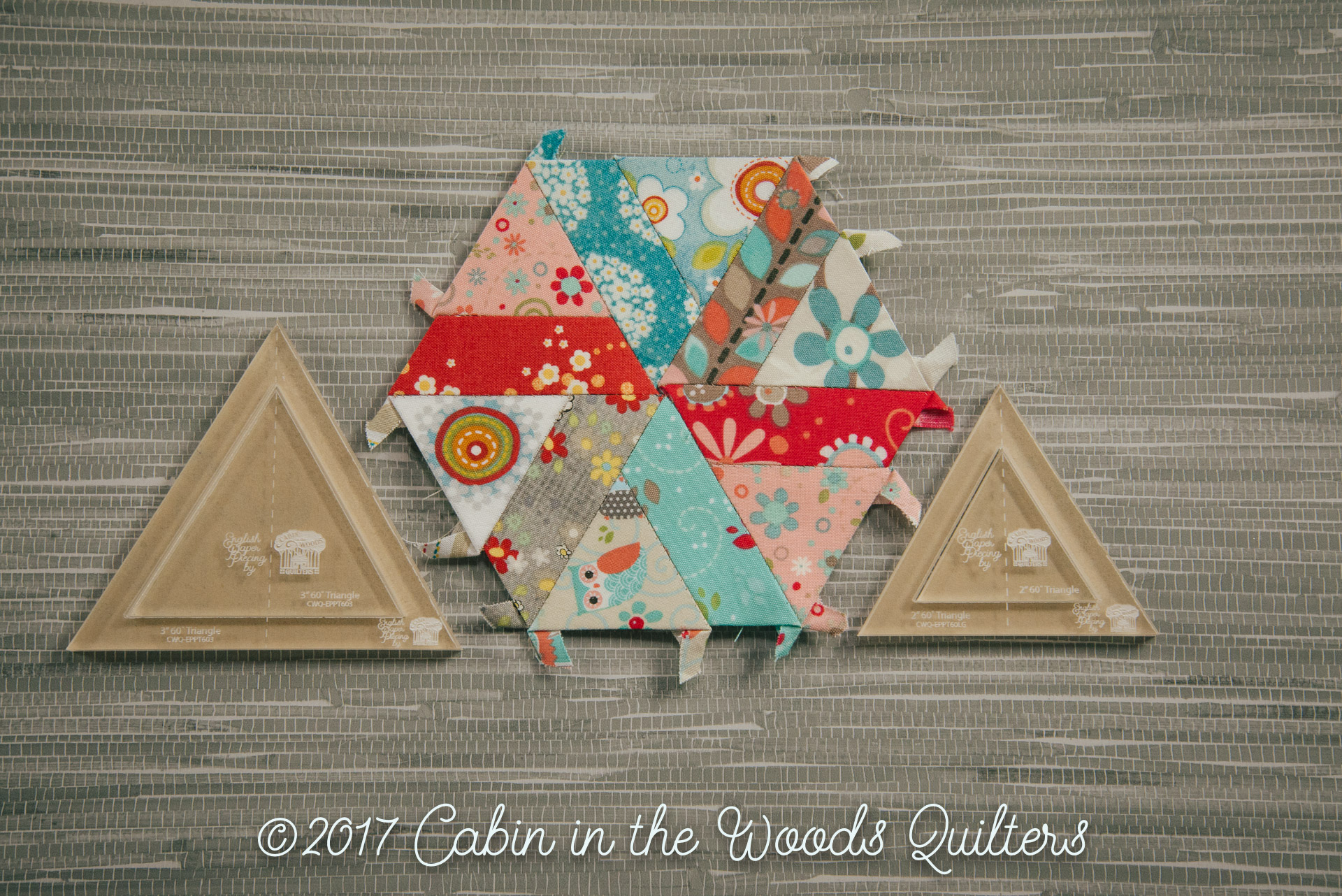 So far in this Quilt Along we have used templates from the following CWQ sets:
Hexagon Small Set                      6 Pointed Star Small Set                   6 Pointed Star Large Set
60˚ Triangle Small Set                 60˚ Triangle Large Set                   Jewel Small Set
Half Hexagon Small Set               Half Hexagon Large Set           Kite Small Set                  
120˚Isosceles Triangle Large Set            Hex Peak Small Set
We list them here so you can find them easily on our online store.  Remember that several sets are used multiple times throughout the book/calendar and you will use multiple sizes from each set throughout the book/calendar as well.  Of course you will use them again and again throughout your EPP lifespan as the same shapes appear in many designs.  All of the shapes in the New Hexagon will have some relationship to 60˚ because they are hexagon based.
If you missed the other blocks in the Quilt Along you can find them all on our blog page or by clicking here.
~Happy Stitching