Welcome to Week 11 of the New Hexagon Quilt Along featuring the NEW English Paper Piecing Templates by Cabin in the Woods Quilters and fabrics by ADORNit.  I can't believe the Quilt Along has come to an end.  Now that our blocks are complete, it's time to put our top together.  You might be guessing how I have chosen to put this quilt together.  There are quite a few options to putting this quilt together and it is totally possible to piece the quilt top by machine.  But that wouldn't be much fun since we pieced all the blocks by hand.
Don't worry… I didn't forget that there are two more blocks to the quilt.  You will find those blocks and what is needed to create them below and at the bottom of this post.
You will also see the quilting in an upcoming blog post so there will be plenty more to follow along on the blog.  We will be attending quilt market next month and there will be plenty to talk about and see in the upcoming months.  Let's take a look at my finished New Hexagon quilt top.
MY QUILT TOP
I chose to put my quilt together with a very simple setting using 3″ 60˚ Triangles (from the large template set) and use a mixture of light gray fabrics to blend all my scrap blocks together.  This quilt has such a cheery nature.  The light gray gives your eye a place to rest in the sea of scrappy colors.  I cannot tell you how fun this quilt was to put together.  I enjoyed every second of it… and I completed it in time to hang at the Lancaster Quilt Show last month… so for those of you that attended the show… you have already seen this top.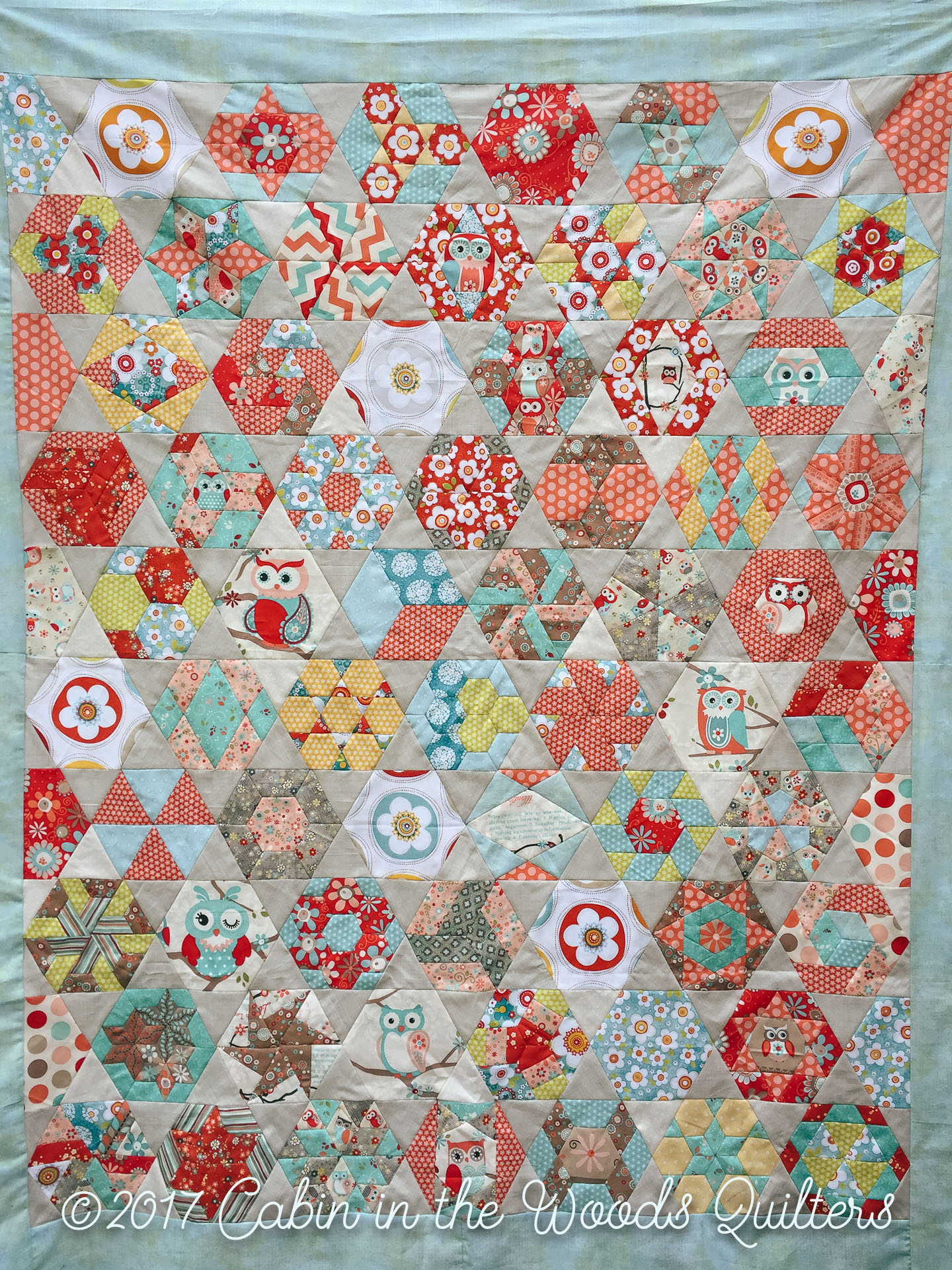 One of the best things I was able to do with this quilt was to make fussy cut blocks using my 3″ Hexagon template (from the large set), which just happens to be the same size as the finished blocks in this quilt.  As you can see… the large owl blocks and the large daisy blocks were all fussy cut from fabric and helped to add to the quilt and make the body larger.
To finish the top, I wanted to add a border to the outside of the quilt.  In order to make the quilt into a rectangle to add a border, I completed the pattern with extra setting triangles and cut large 3″ hexagon blocks from the leftover fabrics from my fat quarters.  You will see along the edge of the quilt the "solid blocks".  I then removed the papers from the edges of the quilt top and pressed the seams flat.  I was able to trim the sides of the quilt top with a seam allowance and add a border as I would any other quilt top. (Border print was furnished by ADORNit fabrics and is called "Burnished Aqua")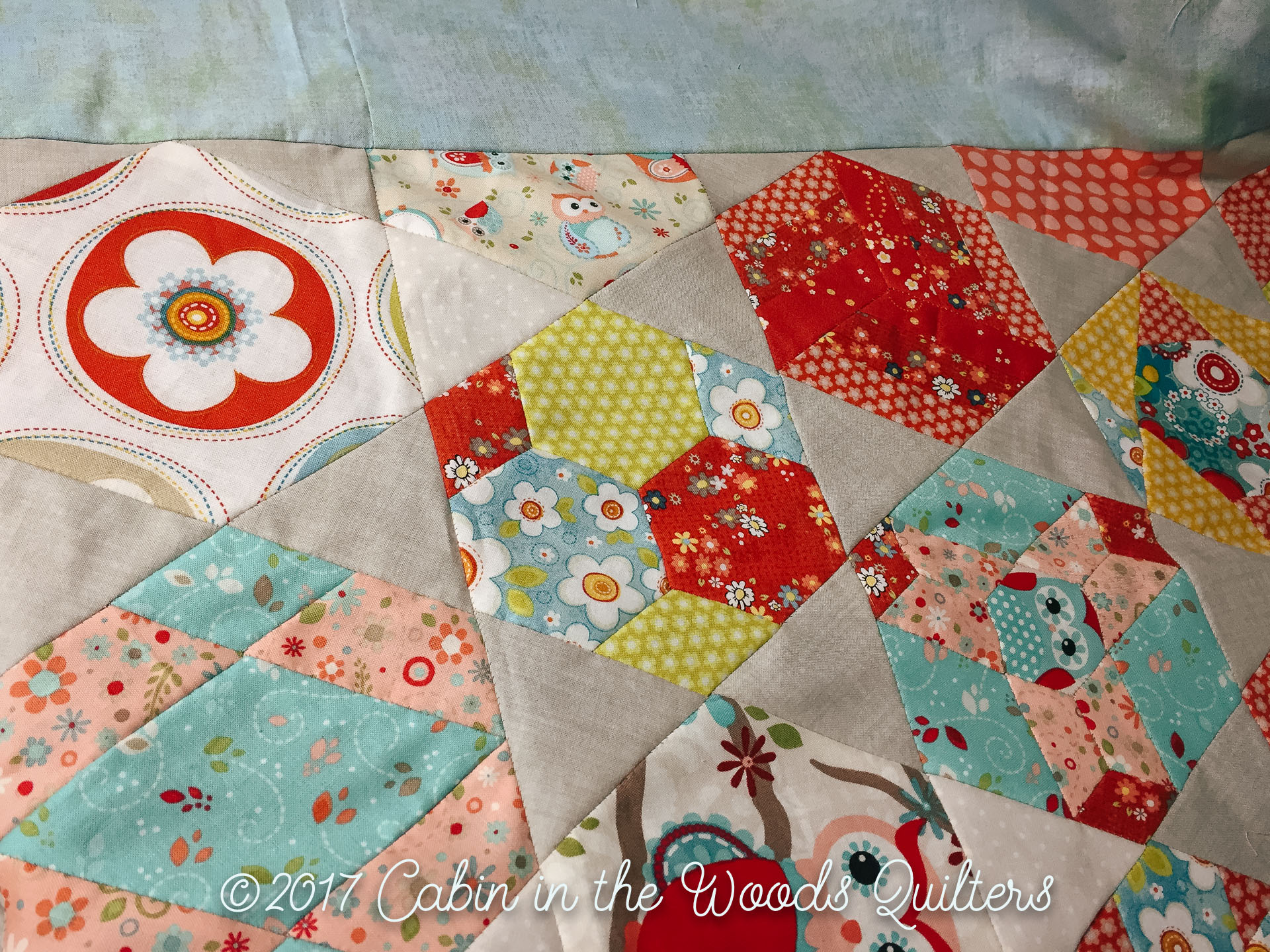 I did "cheat" a little and added the outer border by machine.  I wouldn't have minded doing it by hand but since I was on a time crunch, I took it to the machine and finished it.  As I said in the beginning, I did figure out a way to create this setting and sew all the blocks together by machine.  This is a perfect way to do an I Spy quilt as well.  If you are interested in learning the method, you can find it in my Sew Many Hexies pattern HERE.
Here are a few more closeups of what I did with my blocks.  I put a few little "Easter eggs" in this quilt since I made it for myself.  While this quilt will serve as a beautiful sample for my templates, I created it with only myself in mind.  I used fabrics I was in love with and bought for myself from ADORNit.  In the center of the photo I was able to fussy cut an owl sitting on the tree branch in the letter "D" for my last name.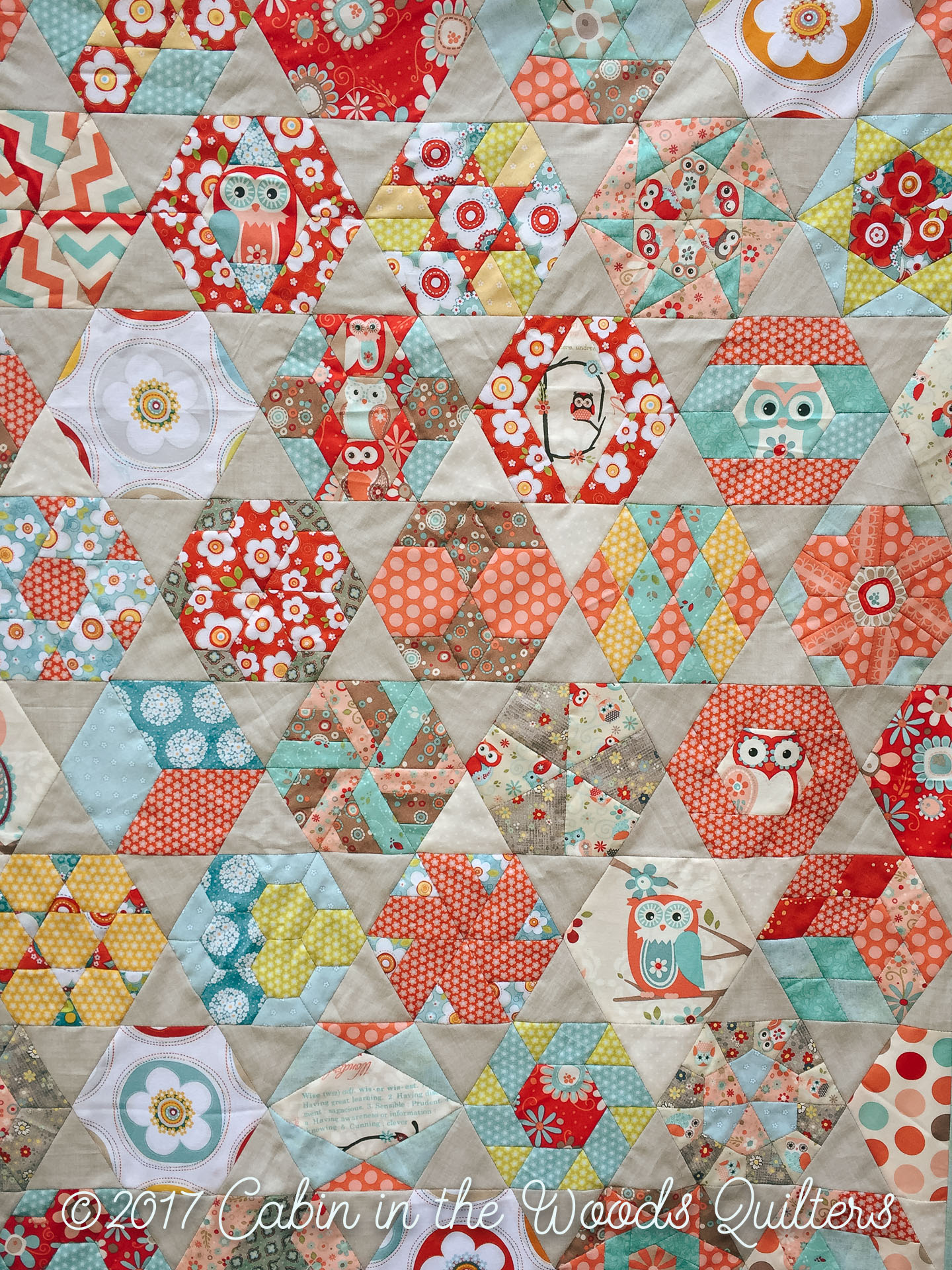 Lots of owls in this quilt as the OWL is my spirit animal I think.  I am very attached to them and I enjoy sitting on the deck and listening to them chat at each other here at the cabin.
One of my favorite blocks in this quilt is the one about mid-center with the definition of "WISE".  I love that little bit.
Thank you so much for joining me for the last 11 weeks on this quilt along.  I can't wait to get this one quilted.  Lots of sample quilting and cottage quilting this week.  Much catching up to do getting ready for upcoming Spring Market and our newest pattern with Keepsake Quilting (in the May 2017 catalog).  Also we have quite a few new template sets being released.  Keep checking back.
Also, a big thank you to Katja Marek for authoring the New Hexagon book and perpetual calendar, giving us all lots of options for working with Hexies.  If you are interested in continuing with English Paper Piecing and are addicted to these hexies… I recommend you check out the links below.
OTHER INTERESTING HEXAGON BLOG POSTS
Here are some photos from a Hex-a-Thon at Katja's that were posted by Linda's Quiltmania… check them out HERE
Check out Katja's Quilt Shoppe for more inspiration and Quilt Alongs… HERE.
Check out Katja's Blog for her latest creation… HERE.
If Hexagon's are your thing… try the New Hexagon/Millefiori Quilt Along… HERE
… AND NOW FOR THE BLOCKS
Block 51: Joyce…
was created using the 1 3/4″ 60˚triangle, 6 pointed star  and 120˚ Isosceles triangle templates from the large sets.  Notice I fussy cut some of my flowers for the adorable centers.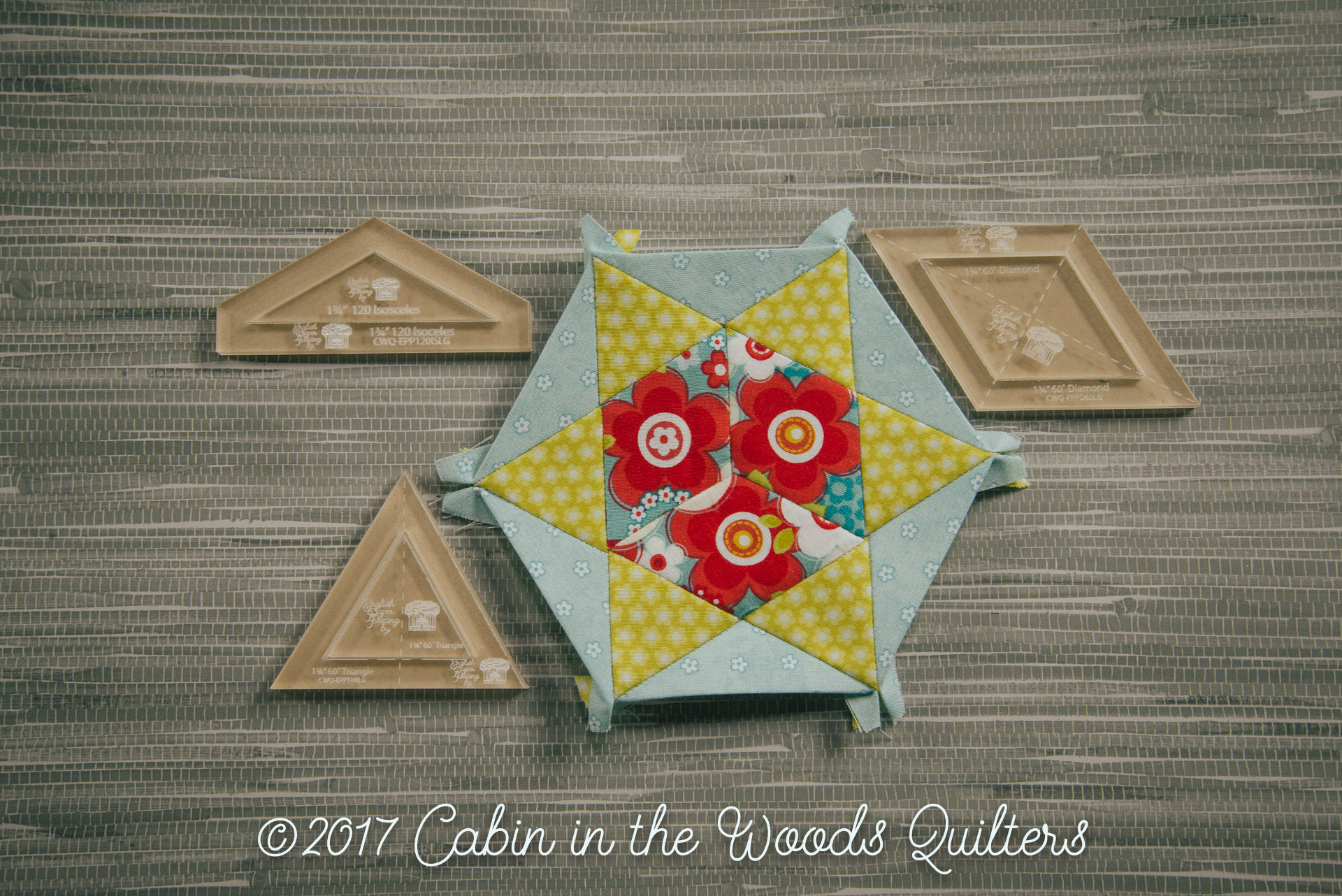 Block 52: Katja…
was created using odd shapes cut out from our CWQ Printable which you can DOWNLOAD HERE.  I think Katja (the author) wanted to make her name sake block super difficult so she used 7/8″ kites and only half of the 1 3/4″ and 3″ 60˚ triangle templates from the large sets.  I created a Printable to make your life super easy and then fussy cut my owls for the center pieces.  I love this little block.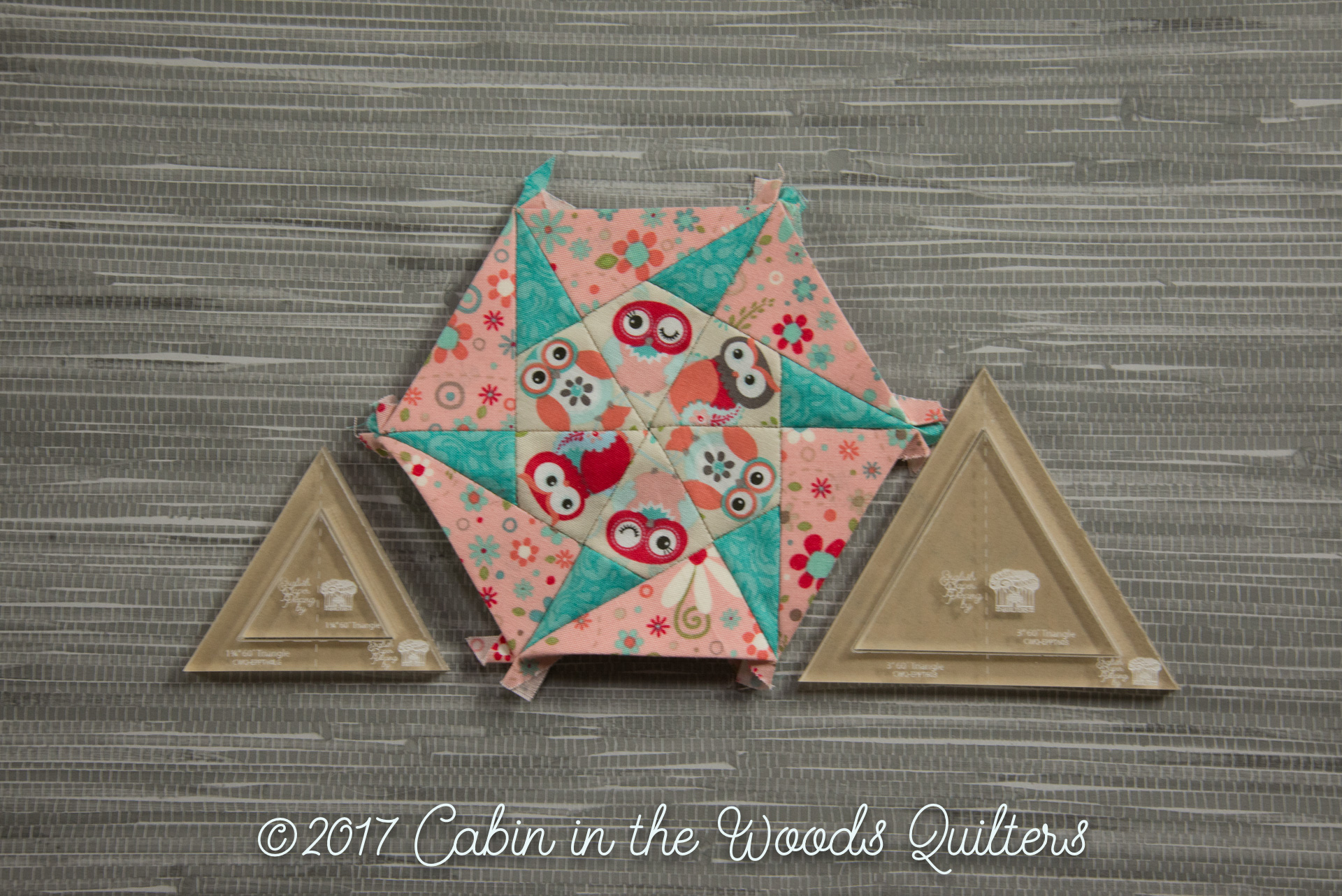 During this Quilt Along we have used templates from the following CWQ sets:
Hexagon Small Set                      6 Pointed Star Small Set                   6 Pointed Star Large Set
60˚ Triangle Small Set                 60˚ Triangle Large Set                   Jewel Small Set
Half Hexagon Small Set               Half Hexagon Large Set           Kite Small Set                  
120˚Isosceles Triangle Large Set            Hex Peak Small Set           Hexagon Large Set
We list them here so you can find them easily on our online store.  Remember that several sets are used multiple times throughout the book/calendar and you will use multiple sizes from each set throughout the book/calendar as well.  Of course you will use them again and again throughout your EPP lifespan as the same shapes appear in many designs.  All of the shapes in the New Hexagon will have some relationship to 60˚ because they are hexagon based.
If you missed the other blocks in the Quilt Along you can find them all on our blog page or by clicking here.
~Happy Stitching