Welcome to Week 10 of the New Hexagon Quilt Along featuring the NEW English Paper Piecing Templates by Cabin in the Woods Quilters and fabrics by ADORNit.  It's hard to believe our Quilt Along will come to an end next week.  This week I thought we would talk a little about scrap quilting.  Throughout this journey in the last 10 weeks I have mentioned that I was creating this quilt out of scraps… meaning smaller pieces of fabric from lots of different lines.  Last week I showed you a piece that I had been fussy cutting for another project.  This week I would like to talk about color theory and how to know scrap blocks will eventually go together.
COLOR THEORY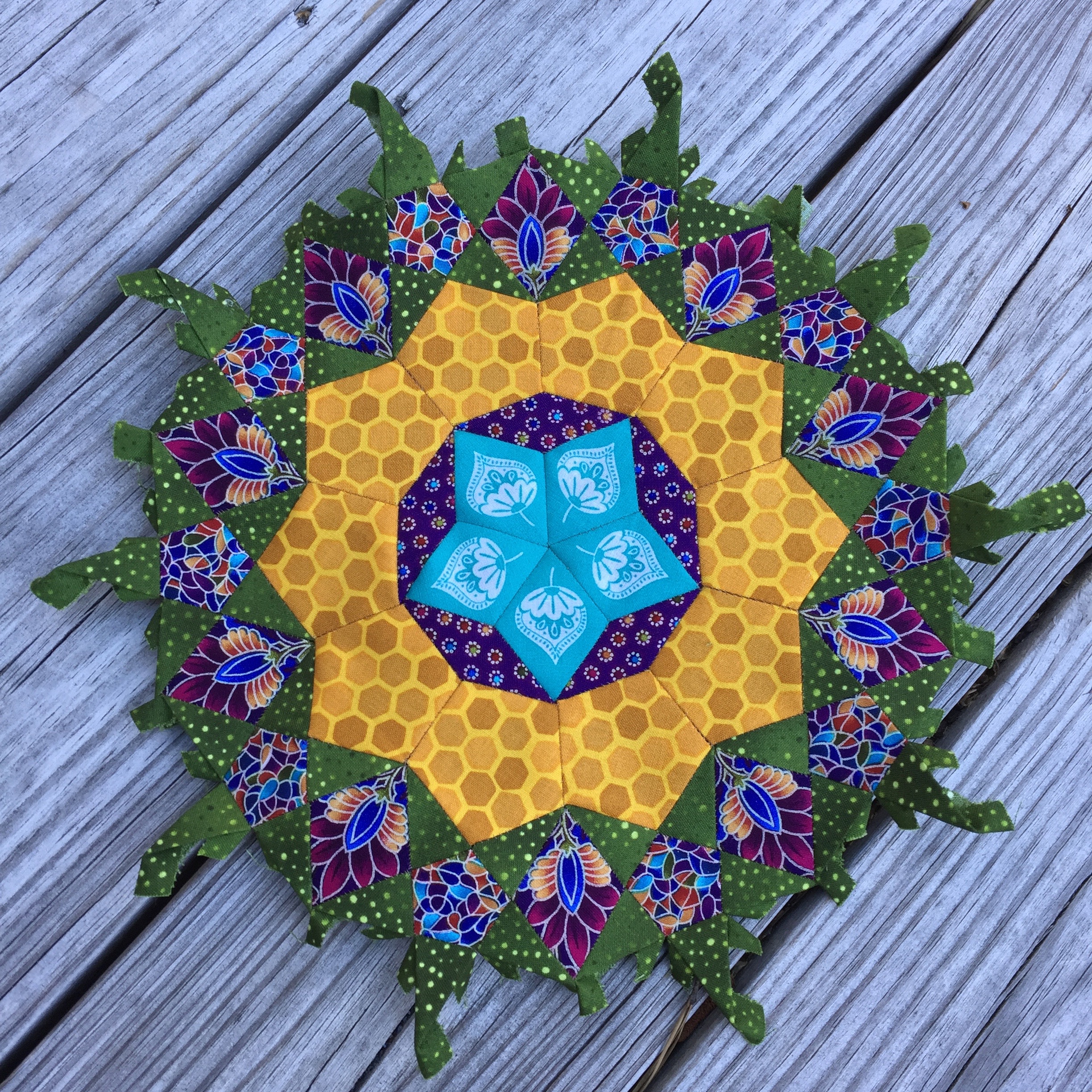 Last week we looked at a block that I created for my La Passacaglia quilt.  I belong to a Facebook Group where other people post about their blocks, quilts and fabrics.  I posted the pic above and received lots of lovely comments about how beautiful these fabrics are and how this block basically sparkles. One common theme from the comments was how many of those in the group would never have thought to put these fabrics together with each other.  This is also a common theme of other posts from other quilters.  Many start making a single block and then don't know where to go next.  Or WORSE… they can't even get started.  This is a challenging project and for those that are used to choosing 3-5 fabrics from the same line and putting a quilt together, it can be down right paralyzing.
Trust me.  I teach scrap quilting all across the country and this is a common problem. Why do we have so many scraps?  Because we don't know what to do with them?  Well… that's part of it. But that is not the only part.  I have written three books on scrap quilting and have taught many classes on the subject and quilters who struggle seem to always struggle with the "end vision".  Most people can get started with a few blocks and a few colors and then the doubt starts.  They start wondering if the quilt will wind up looking like a hot mess.  Do these fabrics really go together?  How will I get them all to connect?
After I posted this picture, one of the viewers commented, "No pressure on block #2."  I found this amusing.  I could have really struggled with block two, but instead I dove right in.  Here is the beginning of the second block.
Here they are together.. pink and olive green.  I think they are looking quite spectacular together.  So what is the secret?  Why do I feel so confident about mixing colors and so many people feel so paralyzed?  Well first let me tell you that I struggled too.  Well… not with the colors in the fabrics… but which fabrics to start with in my stash.  This is basically a once in a lifetime quilt so which fabrics to make it from was a very big decision.  Which color trend did I want to use was the biggest decision.  Now that I decided to work with some fabrics that I purchased about 14 years ago, the rest came together quite easy.  Let's take a look at what I started with and see some of my tricks to making all the fabrics go together.  I assure you I used the same technique when deciding to mix 4 different lines of ADORNit together to make the New Hexagon Quilt.
It all starts with the focus florals.  These are the pieces that determine where I start with my colors.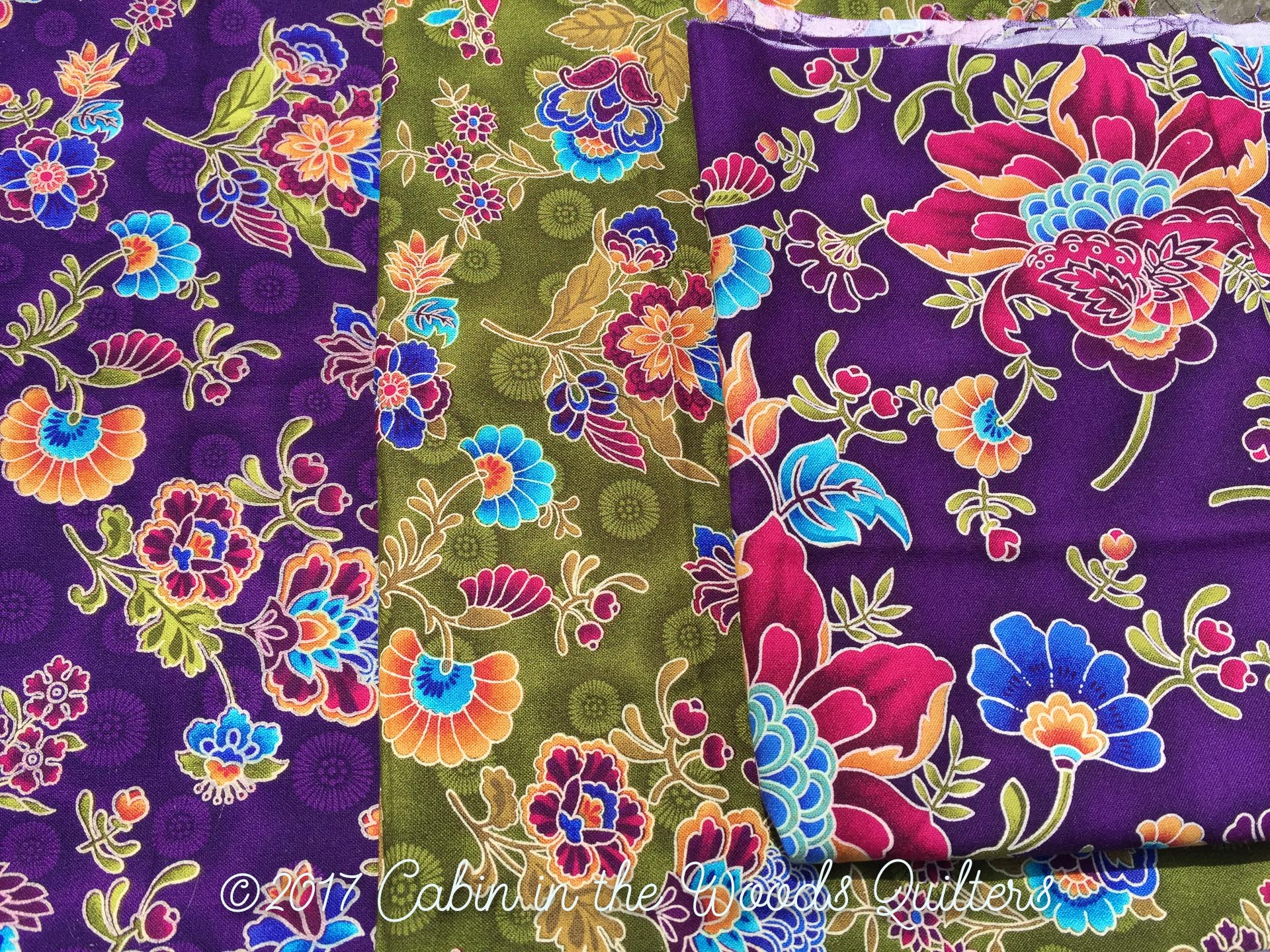 I chose these as my starting point because the backgrounds have a good dark base which would be easy to match to a dark with star points and direction.  I also really like that there are bright and light colors in the focus fabrics as well.  There are lots of tones and lights and darks in these pieces.  The original group of fabrics were half yard cuts I picked up during a shop hop.  I didn't choose the fabrics.  They were the shop hop fabrics and you received one print at each shop you visited.  I did choose to buy them and save them forever.  Here are the other fabrics in the group.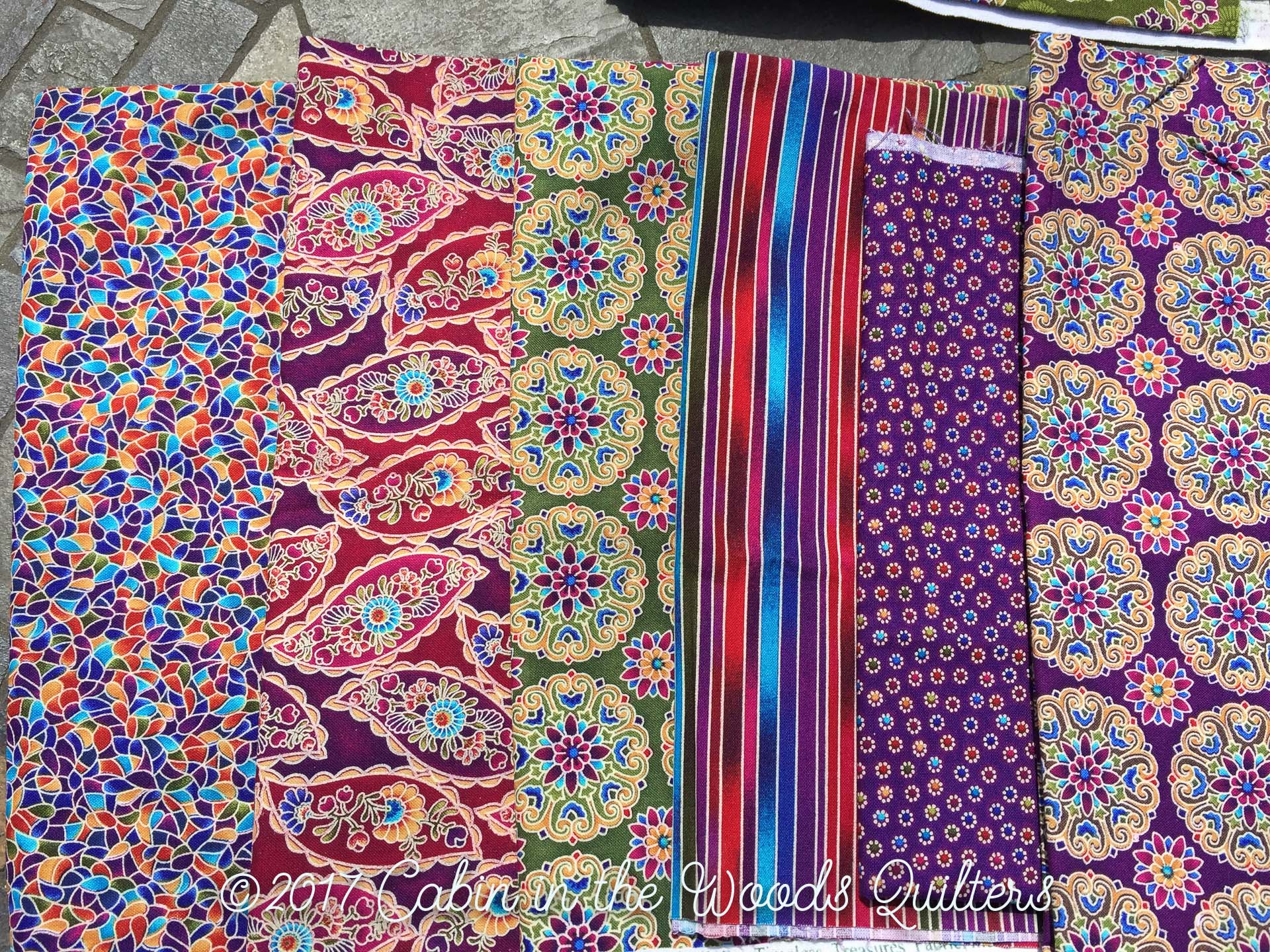 These fabrics are a little more "busy" that the others.  I like that part.  All of the same colors are here.  Lots of different colors in different shades with a dark base.  The fact that one of the fabrics is a mosaic is just a happy coincidence since the quilt that I am making is also a mosaic.  This reinforces that I am on the right track.  So now we just need a place for the eye to rest when putting everything together.  The designer says to use dark fabrics for the star points so that the direction is clear in the circles or cogs in the quilt. I agree but also disagree with this statement.  It depends on the fabrics you choose.  In the case of my quilt… I will achieve the same effect with a solid or something that reads as a solid.  Also… you have to remember that the pieces are really small so you aren't viewing the quilt with large square or rectangles in it.  One fabric will not throw off the entire pattern in the quilt.  It may stand out more or less than another fabric but it won't take away from the design.  So I pulled a stack of fabrics from my stash.  Some may make it into the quilt and some may not.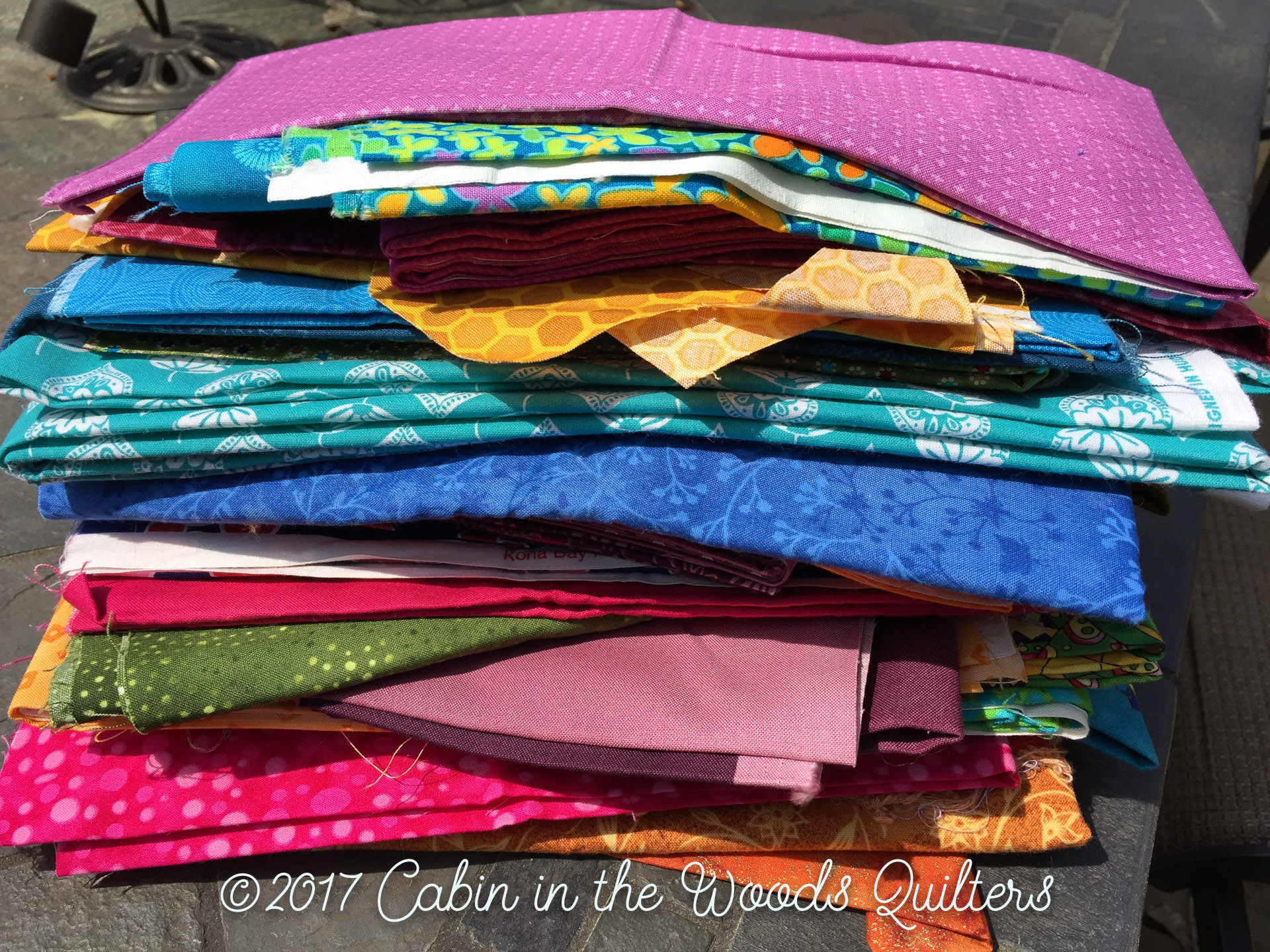 How did I choose the fabrics to begin with?  I looked in the focus florals. But instead of looking for something that matches EXACTLY, I chose something that is in the same tone or hue or shade as the fabrics in the quilt.  Let's look at a color with the focus florals and see the example. Only look at the top half of this photo for a minute.
Look at all these pinks but instead of looking at them together, look at each one with the focus florals at the top.  Each one of these colors is in this fabric in some form or another.  The dusty looking prints might be light or faded from the focus florals but they are still in there.  They all look really interesting against the focus floral.  Nothing screams that it doesn't belong.  This is called "auditioning the fabric" and it works with any kind of focus floral or focal print.  Also the more tones you have in the quilt the more interesting it tends to be.  I also chose to brighten the tone of the focus florals by adding some very bright fabrics to the quilt.  This brings "light" into the quilt.
Light is everything to art.  If you ask an artist what the most important part of the painting is, they will tell you the light.  If you ask a photographer what they are trying to capture in a photograph, they will definitely mention the light. Light defines the tone of the art.  Its the part of the quilt that we say "pops".  Also check out the bottom of the photograph with the purple and red print.  The stripe fabric and this Paisley-ish print are the only ones with a true red fabric.  So we have to add that to the quilt too somewhere.
While this bright red it really only in the stripe, it's the perfect red for the tones in this quilt.  Here's what we came up with for greens.
There are a lot of greens in this quilt.  The darkest in this photo is the one in the first block.  This particular print is super great because it is dark but has those brilliant flecks of light.  That is truly what gives the block its sparkle.  Again this group of greens are very diverse, but all of them look so spectacular individually with the floral that we have to keep them.
Here are a stack of orange and gold fabrics that I think work really well.  Again they are very diverse.  The bright ones will be used sparingly but those golds are super perfect.  Of course I will also be on the lookout for anything that has the ability to be fussy cut as well.
The dark golds really bring out the orange in the quilt without being "in your face" orange.  They have lots of light flecks which will bring more shine and sparkle to the quilt.  Still on the fence about the one below.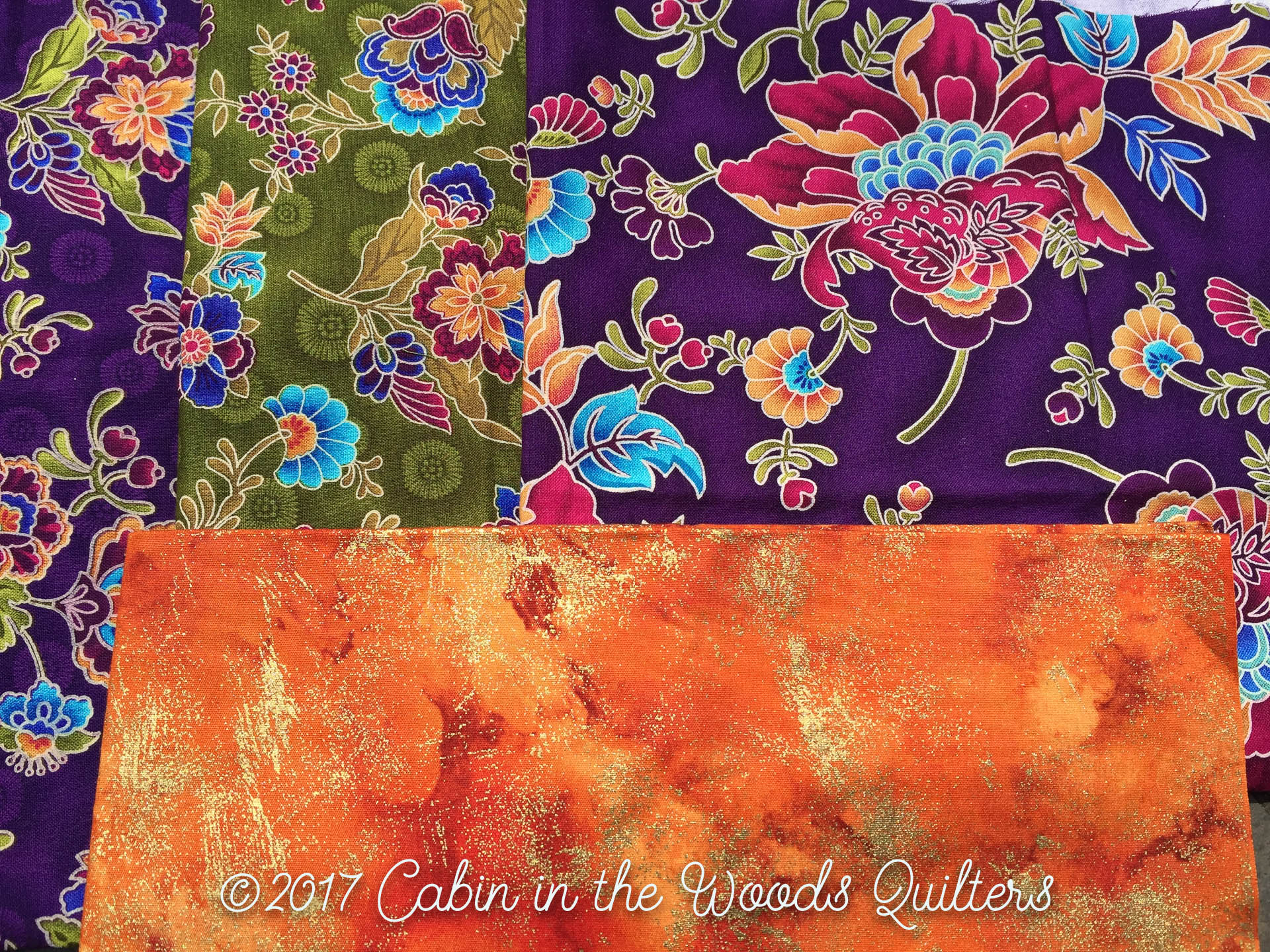 This fabric truly has a sparkle.  I don't typically like working with fabrics with metallics.  But this one is pretty perfect. The pieces in this quilt are really small so I like that this fabrics has so many colors in it along with the gold sheen.  I think it will be really interesting to see it cut up.
The blues were easy.  I even pulled a couple of novelty prints with the flowers and the fish.  But look to the left in the bottom corner.  I added this bright teal (which is actually the fabric in the center of the first block) because it was perfect for fussy cutting and the teal shows up in the smaller prints in this line.  I took some heat from a few people when I bought the teal because they didn't think it belonged in this quilt.  It actually does.  There are flecks of that teal everywhere in this fabric line.
Now because I only had a couple of half yards of these focal prints I was concerned to get too far into the quilt without introducing a few more prints.  You don't want to wait until the end of the quilt and discover that your 14 year old fabric has run out and you can't find anything like it.  I took a trip to the local quilt shop in search of some fabrics that had the same tones and colors within.  Remember we are only using small pieces of these prints within the quilts and assuming they blend with the other colors in the quilt, you can mix lots of other fabrics together and still make the quilt look cohesive.
Here are the two focus fabrics I chose to add in with the original focus florals.
I think I did a pretty good job of matching the tone.  The two new fabrics have a little metallic look to them and they are a little dustier or muted that my originals but they will blend perfectly with my chosen fabrics and I will let the solids bring them all together.  Not a bad trip to the store. I was very pleased to find these gems.
Then I added a couple of fun prints to the stash of "solids" that have patterns that can be fussy cut to bring the two lines together.
Now you can see the new fabrics and the old fabrics together with the prints I chose this weekend and you can really see them blending together.  This is the fun part of putting so many fabrics together.  I am excited to add the new fabrics together with the old fabrics and I will begin introducing them right away so they don't look like a last minute add on.
That is really the key to making everything fit.  Fabric auditioning with a focus fabric is the easiest way to understanding color.  If you aren't very confident with your ability to blend colors you can let the fabrics to do the blending for you.  You will then use the same technique for adding borders to your quilt when your scrap quilt is complete.  If you ask me how I know what colors or tones are actually in the fabric I can show you really easily.  I know some quilters who tend to get overwhelmed when a fabric is too busy.  There is one super easy way to know what the tones are in the quilt.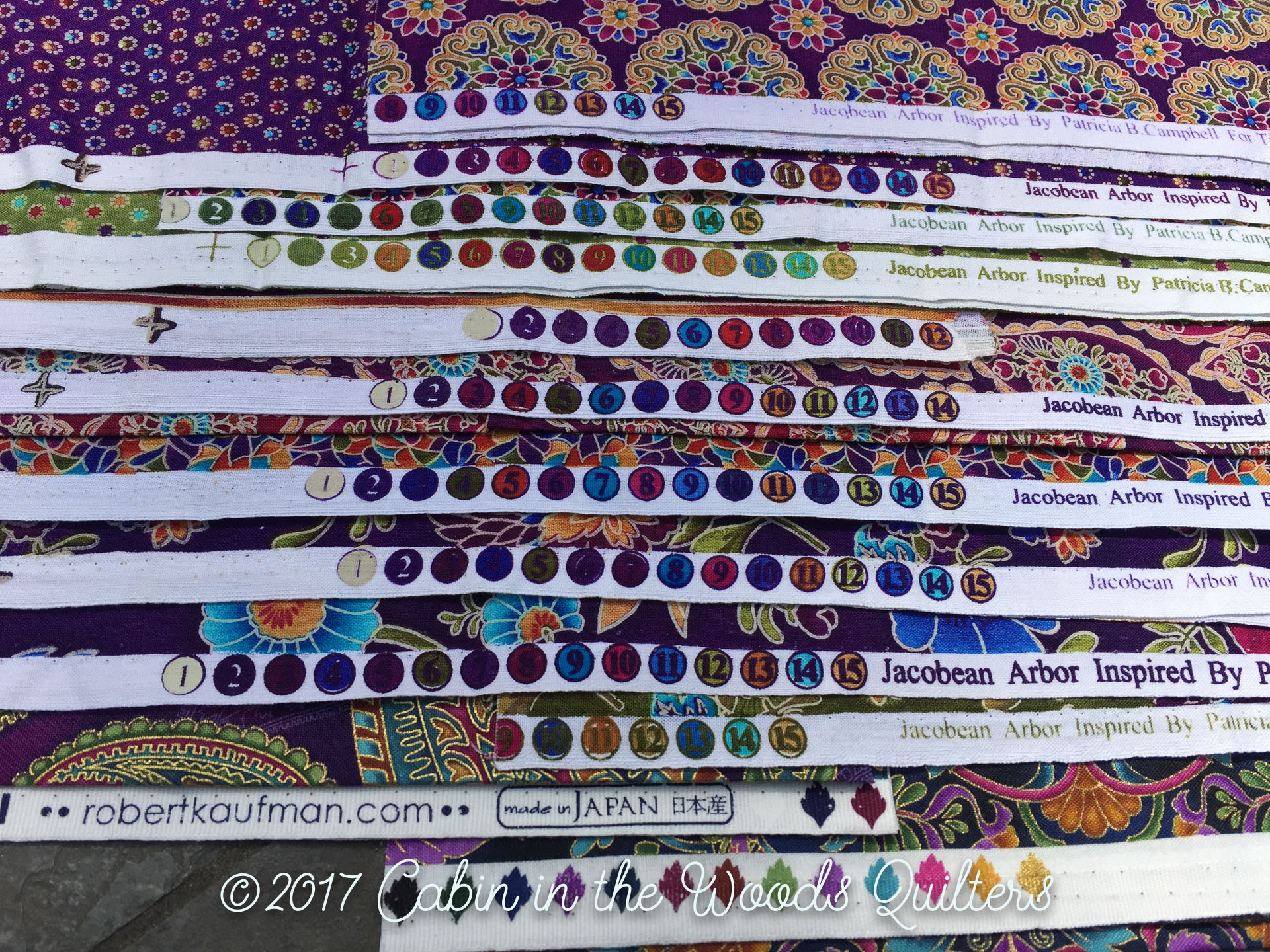 They put a little color coding system right on the bottom of the fabrics.  You can totally cheat and just cut these off and take them to the store.  Keep in mind… you are not MATCHING the colors exactly.  Don't get locked into being matchy matchy.  Just look at the colors and get close.  Then maybe get a little brighter and a little darker in the same shade or tone.  It's a really cool trick.
So if you decide to make your beautiful hand pieced quilt from a mix of lots of fabrics you have all the tricks you need to make them go together.  If you want to mix lines and use up what you have… go for it.  Try mixing lines in the same color tones.  You will really change how you look at your stash. Unless a project must be made from a particular line because I am working with a particular fabric company, I take the ribbons off the fat quarter bundles and put them all into color bins.  It's a lot more fun that way and you will really take your quilts to the next level.
So lets see what I did with my scraps of ADORNit in this week's blocks.
Block 46: Wendy…
was created using the 1″ 60˚triangle, half hexagon and hexagon from the Small sets and the 2″ 6 pointed star from the Large Set.  I got to fussy cut some daisy for this block.
Block 47: Janet…
was created using the 1 1/2″ 60˚ triangle and 6 pointed star template from the Small Sets.  I took a photo of the back of this block a couple of weeks ago and posted it on Instagram and it got lots of compliments.  It was fun and pretty easy to make and you could stitch this one with a sewing machine because it has no set-in seams.
Block 48: Jeannie…
was created using the 1″ 60˚triangle, hexagon and jewel templates in the Small Sets. I chose to fussy cut that cute little daisy in the middle of the block.
Block 49: Irene…
was created using the 1 1/2″ hexagon, 60˚triangle and 6 pointed star templates  from Small Sets.  Cute little daisy cut in the middle.
Block 50: Joanne…
was created using the 1″ 60˚ triangle and hexagon templates from the Small Sets and the 2″ 6 pointed star template from the Large Set.  Fussy cut daisies again in this block.
So far in this Quilt Along we have used templates from the following CWQ sets:
Hexagon Small Set                      6 Pointed Star Small Set                   6 Pointed Star Large Set
60˚ Triangle Small Set                 60˚ Triangle Large Set                   Jewel Small Set
Half Hexagon Small Set               Half Hexagon Large Set           Kite Small Set                  
120˚Isosceles Triangle Large Set            Hex Peak Small Set           Hexagon Large Set
We list them here so you can find them easily on our online store.  Remember that several sets are used multiple times throughout the book/calendar and you will use multiple sizes from each set throughout the book/calendar as well.  Of course you will use them again and again throughout your EPP lifespan as the same shapes appear in many designs.  All of the shapes in the New Hexagon will have some relationship to 60˚ because they are hexagon based.
If you missed the other blocks in the Quilt Along you can find them all on our blog page or by clicking here.
I hope you have enjoyed the journey so far and I look forward to hearing your ideas on how to choose your fabrics for your quilts.
~Happy Stitching