They say March comes in like a lion and goes out like a lamb. I personally think March was trying to go out with a lioness roar. I'm ok with it. Don't get me wrong, I love Winter. After all, I'm a huge fan of snow, stylish boots, and the occasional blanket scarf but not when I need to get somewhere. This year's Lancaster Quilt Week was a challenge for both show businesses and attendees but it was most challenging on my dry skin and freezing fingertips. My poor skin was saying enough is enough already with these winter temps. So it is with great pleasure that I tell you about this latest product from my friends over at Love + Leche.
Love + Leche
Daven at Love + Leche (formerly Milk & Honey) sent me this wonderful gift bag filled with a Lotion Bar and Anywhere Balm to try on my rough and cracked hands.  You can read about Daven's story and see her awesome videos on her info page.  As most women business owners, I am not the greatest at taking care of myself when I have so many other things to care for.  I welcomed the opportunity to try the products out and spend a little time on my hands.  So much time spent with fabrics washing, pressing, cutting, folding and hand sewing that my fingers can't help but get super dry and split.  There is nothing more embarrassing than trying to teach the perfect stitch during a hand sewing class and having ugly cracked and sore hands.  Not to mention trying to film videos showcasing those tiny stitches. I do have to be very careful that the products I use not only work for me but don't transfer nasty chemicals to the fabrics I use.
Daven sent me the nicest note and I went over to her website to check out the product and find out what's in it. I was super surprised to find out that we have similar experiences when it came to starting our businesses. Love + Leche was a business born from something she loved… keeping goats as pets while home with the kids. Quilting for me was a business born from the hobby of a stay-at-home mom. Don't you just love supporting businesses that find their passion and enjoy what they do? I was also pleased to find out that Love + Leche uses all natural ingredients in their products.  That's something we can all love… because that means we can pick it up and use it while quilting, sewing or knitting and not worry about transferring any harsh chemicals or unwanted ingredients onto our fabrics, machine beds or yarns. Or, let's face it,  my computer since I spend lots of time working in my office as well as my studio.
Lotion Bar
I chose the Lavendar Mint scent and tried out the lotion bar first.  This was intersting.  I have never used lotion in a bar.  Look at this adorable design when you open the can. I almost didn't want to touch it.  The bar itself is solid and not lotion-like at all until you pick it up. The warmth of your hand begins to slightly melt the bar into a lotion that you can then apply to your skin.  I rubbed the bar all over my hands, fingertips, and cuticles.  The lotion works amazing and the lavender mint scent acts as aromatherapy.  It soaks immediately into your skin and makes your hands feel instantly moisturized. When I was done I dropped the bar right back into the can and put the lid on.
Anywhere Balm
Next, I tried the Anywhere Balm. This one is the size of a small lip repair lotion so I tried it on my lips first. This one was a little harder to melt with my fingers.  I tried it on my elbows as well… those super dry areas we all have trouble with. It worked great. My elbows are looking much better these days.
I love that the products are all natural and use goat's milk, beeswax and natural flowers and plant oils for scent. While my family isn't totally chemical free we have made lots of strides in recent years to rid our lives and bodies of super harsh chemicals and soaps. My poor allergies just can't take it and eliminating so many harsh chemicals has really helped me to feel better and not suffer as much as I had been.
What Else?
Well gang, if keeping your hands properly moisturized for your stitching doesn't quite sell you on this product let me try to help. I have been teaching English Paper Piecing all winter and have been looking for an easy way to keep my threads from tangling. What I found is that while using this lotion and working with the threads they were a little less tangled than they had been when stitching by hand so I started using the products to run my thread through while stitching. It works like a dream as a thread conditioner as well.  Plus it keeps my fingers super happy.
You see when you use natural products on your hands and body those natural products can be used on your fabrics as well.  No dye transfers or greasy spots were seen and I can just keep right on stitching. Just an added little benefit of going natural. So I am keeping the Anywhere Balm right where I can get to it with all my other special tools.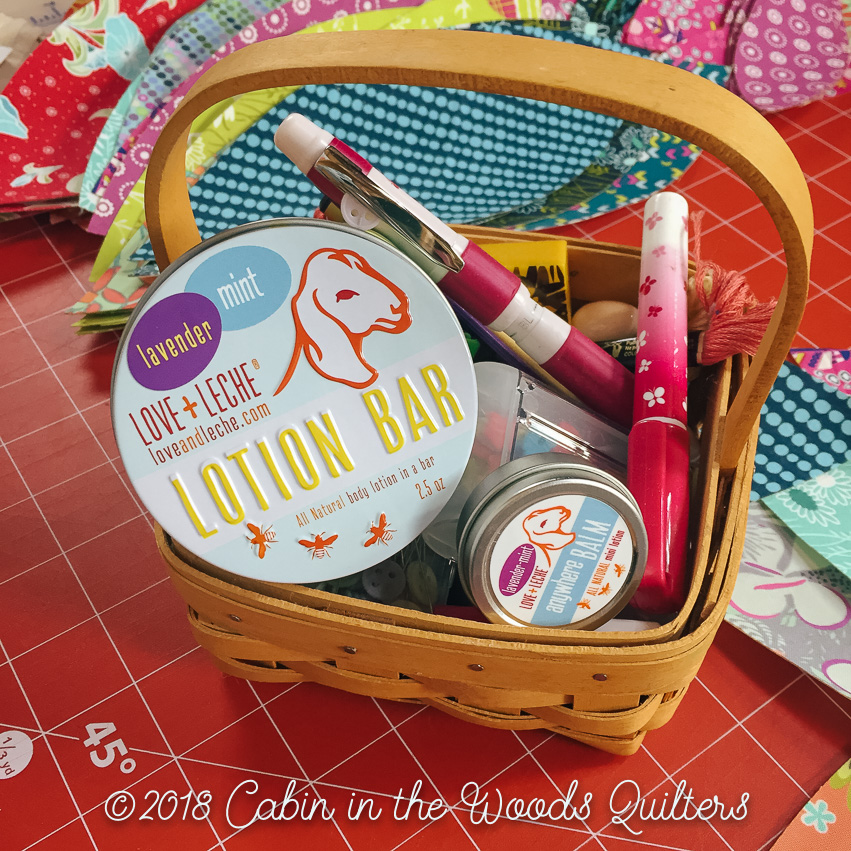 Heal the Skin and Help the Planet
Not only has Daven found a way to heal the skin, she is also helping the planet. The cute little gift bags (perfect for your quilting friend) that the products come in are made by a company called Work+Shelter. You can read about this company here and on the card below. You can keep the pouch forever or reuse it as a gift.  Great packaging idea.
A Gift For You
I can't say enough about how grateful I am to have survived the winter with skin that doesn't show it.  Also, I learned a little something about natural products that I can pass on to my students in my next class. Aside from healing your skin, my friends at Love + Leche wanted to do a little something extra for you.  They have given me this awesome coupon code (cabinquilters) that you can use on their website to get One FREE Mini Balm with a $15 purchase (coupon code active until May 15th).  You should also head over to this link and enter their giveaway to win a FREE Love + Leche Lotion Bar Gift Bag just like mine.
Be sure to pop over and check out the shop.  They have products and gifts for men and women, cute videos and lots and lots of positive feedback.  A great big thank you to Love + Leche for sending me the product to try so I could tell you all about it.