I'm excited to show you the latest tool in my Quilter's Toolbox and it was quite an unexpected addition. I've had my eye on a new yarn bowl for my occasional crochet projects for quite some time and have had the chance to use the new Project Caddy from my friends at Lazadas Knitting. It turns out, my new project caddy is fantastic for more than just knitting and crochet.
Lazadas Project Caddy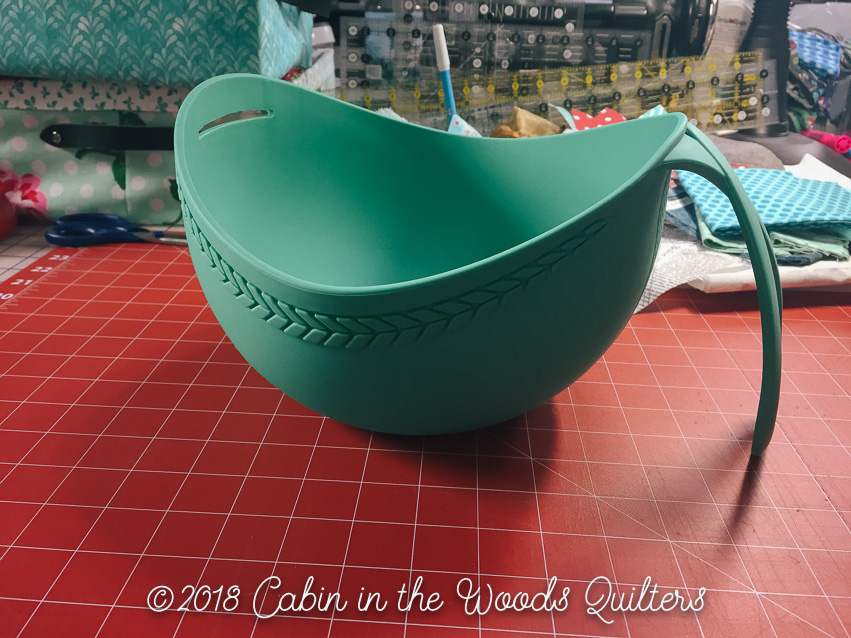 The project caddy is the coolest thing. Made in Israel from silicon that is sturdy enough to keep its shape as a bowl but bendy enough to close on itself to hold the yarn while traveling. There are no sharps edges or rough patches for your yarn to get caught or snagged. The handle on the bowl folds over and feeds through the slot on the other side.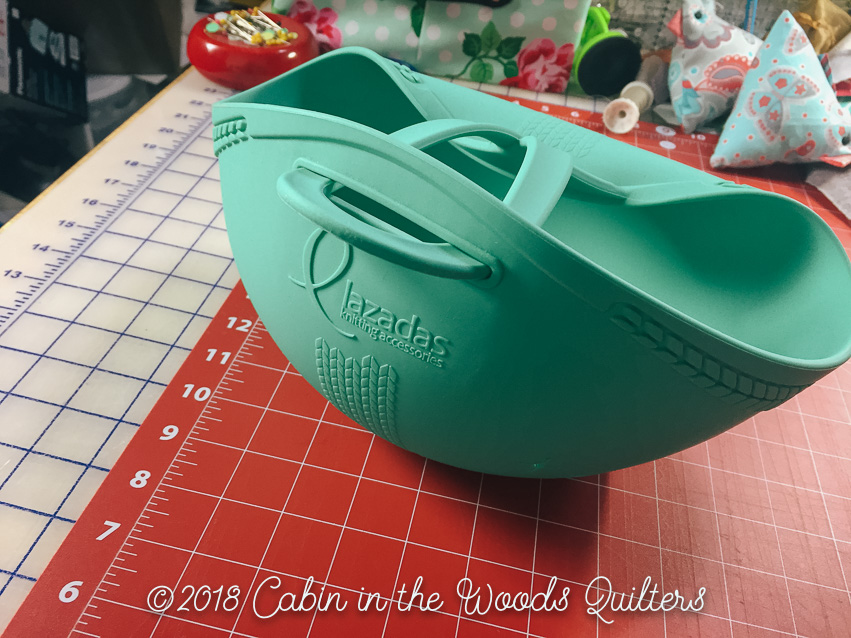 When you feed the handle through the slot, the caddy natural folds onto itself and creates a carry pouch.
Isn't that the absolute coolest thing? You will also notice that the caddy has a few special little holes in it. I thought initially these were for yarns to be fed through and keep them separate but they may also be for holding your needles so they don't go anywhere. Perhaps for both of those reasons.
Playing with the new yarn bowl/project caddy was super fun. Whether snuggled up on the couch with my pup watching my favorite show…
… or sitting at the tire center waiting for a spare tire…
… I had loads of fun playing with my new toy. I worked tirelessly to create bright and happy blocks for the local yarn bomb event in the town of my favorite local quilt shop. As a matter of fact, I worked so hard on those blocks at the local quilt shop I even took the project caddy with me to the store while I was teaching. It was definitely much talked about and I even found another use for that awesome handle.
I was able to walk around the shop and crochet all while helping my students pick out their fabrics for class. The shop owner thought it was so funny she snapped a pic of me. My perfect little travel companion.
Knitting Tool is a Quilting Revolution
Some of you may be thinking… now, what has this got to do with quilting? I'm very glad you asked. You see, I have a problem and I am wondering if you share my pain when it comes to putting the bindings on your favorite quilt.  I cannot seem to find the right tool to keep my binding strips together when I am trying to attach them to my quilt top. I've tried just about every tool and homemade gadget. None seem to work well for me. My binding strips start out as neat little fan folds and then next they are curled and twisted up on the floor, stuck under my chair wheels or caught up under the quilt itself.
As an experiment, I decided to give the project caddy a try. I used the bowl to fan fold my strips as I was pressing. They stayed nice and neat in the bowl.
Of course, the real test was putting the binding strips on the quilt.  So I closed up my caddy and pulled one end of the binding strip through the end of the caddy.
Then, I set the caddy to the right of my sewing machine and just started sewing.  The result was spectacular. My project caddy was sturdy enough to stay in place and did an awesome job holding all those strips neatly in place. The binding fed neatly from the side of the bowl. There was no twisting or falling and everything just fed out nicely as I was sewing.
I never expected to use a yarn bowl for my binding buddy but it sure did work out nicely. I'm so grateful for the opportunity to try out this awesome Project Caddy. A great big thank you to Lazadas for creating a project that is cute and versatile for many uses.  If you haven't had the chance to check out Lazadas, be sure to head over to their website where "function can also be beautiful".
For more information about the project caddy and any of the other products created by Astrid for Lazadas, you can check out the website or find her on Ravelry under the name astridl.
Stay Tuned
I have so many awesome projects that I am working on to show you. I can't wait to tell you about them. Be sure to come back next week for a cool tutorial on one of my favorite products and it's many uses.