Welcome to Week 7 of the New Hexagon Quilt Along featuring the NEW English Paper Piecing Templates by Cabin in the Woods Quilters and fabrics by ADORNit.  Here at the Cabin we are working furiously to pack and price templates for the upcoming Lancaster Quilt Show and our various other Springtime Events.  So much to do and so little time to do it.  So this week while thinking about what our conversation on English Paper Piecing would be this week… I thought I would talk about time and quilting.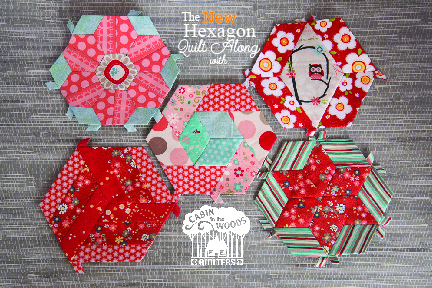 I've been working at this job for close to 15 years.  Over that time I have learned many things about quilting and myself.  I teach many lectures about all the different ways to quilt and applique and I am careful not to say often that there is a "right way" or a "wrong way" to do anything.  Most times I give advice to use a method that you like best.  I know lots of different ways to accomplish the same task and have my absolute favorites if time was unlimited.  But who really has unlimited time?  My mother recently retired and you would think that she would have gobs of time.  But every time I talk to her she is heading off to this place for a class, and another location on another day for what seems like endless appointments and activities… and often I hear her say she simply doesn't have the time.
Why am I going into all of this lack of time?  Well… to be honest…. I don't have a whole lot of "free time" either.  I have lots of unfinished projects and long term projects that I would love to take the time to sit and do… but I never seemed to get around to it.  I would love to have all my applique samples be created using needle turn applique but it always seems to be machine appliquéd… in the "essence of time".  So… when I set out to create this New Hexagon Quilt Along using my templates, I knew that I might have to change the blog from week to week to accommodate my inability to finish enough blocks each week or to keep up with all my other responsibilities and obligations.  I accepted that I might need to address all of you on a Monday morning and admit that I simply didn't have the time.
FINDING THE TIME
Well… I have learned a lot through this journey this last 7 weeks… and I learned that I can find the time.  Now I want you to read the rest of this passage and keep in mind that I own a quilting business and therefore the business is my job.  This leaves me a little more time during the day to dedicate to this process.  But, I have unseen obligations such as paperwork, distributor and custom orders, bookkeeping, future design work, pattern writing, row by row design, article submissions, teaching contracts, prototypes, fabric company obligations, social media marketing… etc.  The list goes on. The New Hexagon Quilt was only a portion of my day… but I committed to it. Each week I sat down and created my five block project bags (picking the fabric, adding the papers and keeping the block pieces separate) so I could stay organized and focused on my goal.  When the project bags were empty, I filled them again and sometimes finished three weeks of blocks in one week.
I put together a project box with everything that I needed and carried it everywhere.  I took it to scout meetings and dentist appointments… and always had it out when watching tv in the evening the news in the morning.  I kept my needle carousel full of threaded needles at all times.
I am happy to report… that my quilt top is COMPLETE.  I actually finished a completely hand pieced (except for the borders which were attached by machine) quilt in less than 7 weeks.  Just in time to hang it at the Lancaster Quilt Show.  So for those of you that are coming to Lancaster this week… you will see the top proudly displayed in my booth at the FREE show at the Continental Inn on Route 30.  She will be hanging there and all the templates will be available for you to see.  I will be hard at work on the next hand quilting project and will be happy to demo all the things that you can make with the templates.
WHAT I LEARNED ABOUT HAND PIECING
I always try to think about lessons learned when I finish a project and originally this post was to come later in the Quilt Along.  I learned how much I miss working with a needle and thread.  I feel super accomplished to finish this project and in finishing each individual block as they all seemed to be a little accomplishment of their own.  I learned that hand piecing can actual be pretty fast.  Of course I don't mean that my hands are faster than the machine.  Not by any means.  I mean that I found sitting in front of the tv or at the dentist office with the family with my needle and thread gave me time to stitch and quilt but still allowed me to be social with the family and my friends and other quilters.  I spent more of my time actually sewing instead of having to "make time" or "find time" to get into the studio to stitch something in a mad rush.  I was able to make more intricate designs and enjoy doing them because I wasn't "working" on it.  I was enjoying it the whole time.  I hear lots of friends say that they LOVE sitting and putting the bindings on their quilts in the evenings.  For those of you that love that process of hand stitching your bindings… I highly recommend trying English Paper Piecing.  It's like binding every day.  I did try to hand stitch on the line without using papers and I found it a little stressful.  Probably because I am relatively new to the hand stitching world in comparison to my experience with a sewing machine.  I also like the clean lines and meeting points that I get from using the papers.  I will continue to try projects without the papers and I am sure that I will love it eventually.
So… if soccer season has just started and you are looking for something to do on the sidelines… if you have to take the time to set up your machine and your sewing projects on your kitchen table in between meals… if you are doing a bit of traveling or heading on vacation or summer home and don't want to lug a machine and gobs of stash… if you are watching little ones during the day and need something quiet to work on while they are napping… or if the only time you have to do something crafty is in the evening in front of the tv… I highly recommend that you try English Paper Piecing.  Start with something small and just try it.  Just start with one block.  Make it into a mug rug and see if you like it.
Now on to this week's blocks…
Block 31: Jacqui…
was created using the 1″ hexagon, 6 pointed star and hex peak templates from the small sets.
Block 32: Marilyn…
was created using the 3″ 6 pointed star template from the Large Set and a couple of oddly slanted rectangles which you can cut out from our CWQ Printable which you can DOWNLOAD HERE. Be sure to watch how you place the papers on the fabric.  Two pieces slant in one direction and the other two pieces slant in the other direction.
Block 33: Kerry…
was created using the 1 1/2″ half hexagon and 6 pointed star templates from the Small Set.
Block 34: Christie…
was created by using the 3″ 6 pointed star template from the large set.  You can cut three strips of fabric measuring 1 1/2″ wide and stitch together before cutting the pieces for the block from the template.  This avoids having to stitch together each oddly measured strip.  Cut all the template pieces exactly the same from the strip sets creating the spinning feature in the block.
Block 35: Sharon…
was created using the 1 1/2″ 6 pointed star template from the Small Set.
So far in this Quilt Along we have used templates from the following CWQ sets:
Hexagon Small Set                      6 Pointed Star Small Set                   6 Pointed Star Large Set
60˚ Triangle Small Set                 60˚ Triangle Large Set                   Jewel Small Set
Half Hexagon Small Set                Kite Small Set                  120˚Isosceles Triangle Large Set
We list them here so you can find them easily on our online store.  Remember that several sets are used multiple times throughout the book/calendar and you will use multiple sizes from each set throughout the book/calendar as well.  Of course you will use them again and again throughout your EPP lifespan as the same shapes appear in many designs.  All of the shapes in the New Hexagon will have some relationship to 60˚ because they are hexagon based.
If you missed the other blocks in the Quilt Along you can find them all on our blog page or by clicking here.