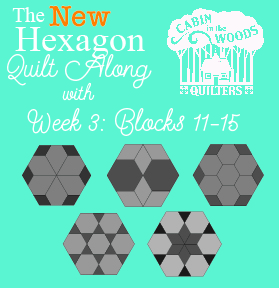 Welcome to WEEK 3 of the New Hexagon Quilt Along by CWQ featuring our new English Paper Piecing Templates sets.  This week we are featuring Blocks 11-15.  The good news… all the blocks are super simple and we have a perfectly sized template for every one of the blocks.  That is definitely the best part.  While I did not choose to create any kind of secondary pattern with my blocks because I have chosen to use scraps from several ADORNit lines of fabric, that doesn't mean you can't do a little fussy cutting and create a kaleidoscope with your blocks.  Repeating fabrics to create a secondary pattern can be really fun and adds another design element to each block.
ONE METHOD OF CUTTING REPEATS:
There are a couple of ways to make repeats or kaleidoscopes within your blocks.  I was always taught when creating a kaleidoscope you purchase a fabric with a repeat (and with these small blocks you don't need a large one) and buy enough yardage that you can cut the fabric at the repeat the number of times you need for the blocks.  When working with hexagons you will need 6 repeats so buy enough yardage to cut six repeated strips of fabric.  Most repeats are about 8-12 inches so cut 6 strips at that width.  Then layer the 6 repeats together before cutting.  It is simple to keep the layers together by taking a small stitch with a needle at the same point in the repeat through all 6 layers of fabric and knot together.  Repeat this process of stitching several times through the layers before cutting your pieces.  This guarantees that your pieces will actually be a kaleidoscope when you finish cutting but you must cut through 6 layers of fabric at the same time.  I use this method to create kaleidoscope Dresden blocks for appliqué.
You're probably thinking… "I don't understand a thing I just read!"  So HERE is a link to a video by Karen Johnson for Connecting Threads that explains exactly what I was trying to explain in a paragraph.  Karen uses flat head pins for her alignment.  I use a needle and thread with a tiny knot using the same method.  I use the needle and thread method so that I can cut through it if necessary when I am picking my spot to cut with my template.  I don't have to worry about working around the pins.  Whatever works for you is best.  This method is great for fussy cutting EPP templates as well as making any kaleidoscope block for Stack and Whack and any other pattern/technique.
Most of us are cutting our EPP pieces with a 28mm (or even 18mm) rotary cutting blade so that we have more control over the smaller pieces and this may be very difficult to do with 6 layers of fabric.  (Although because our templates are 1/4″ thick you may find that you can use a larger blade without trouble.)  So we move on to what I call the "hunt and peck" method or as most call the "fussy cutting" method.
FUSSY CUT METHOD: 
For this method I use my handy repeat mirror.  Mine was acquired years ago so your brand may be different but these are available all over online and at your local quilt shop in some form or another.  You can also make one with two small mirrors attached together with binders tape.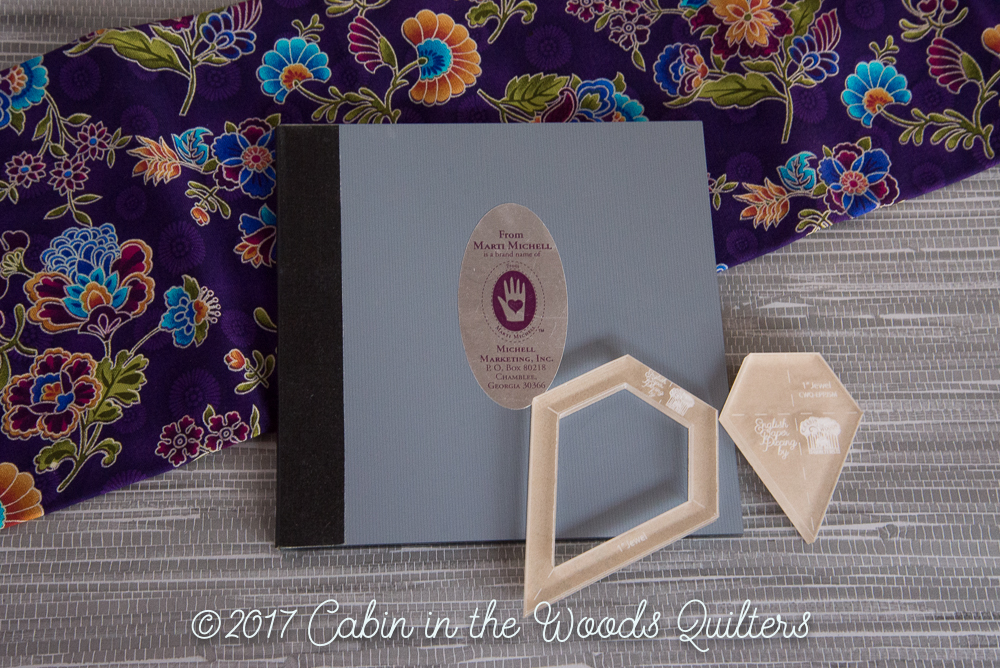 Find your fabric with repeat or interesting design and use the template to create the repeating shape.  The best part about using our templates is that when using the fabric halo you can see directly in the center of the template to the look of the finished shape.  The center of the template will indicate your finished piece… the rest is just seam allowance.
Here are a couple of examples of playing with the repeats in the fabric.  When you place your template in the corner of the tool the mirrors will show you what the repeat will look like with all 6 pieces.  Kinda cool huh?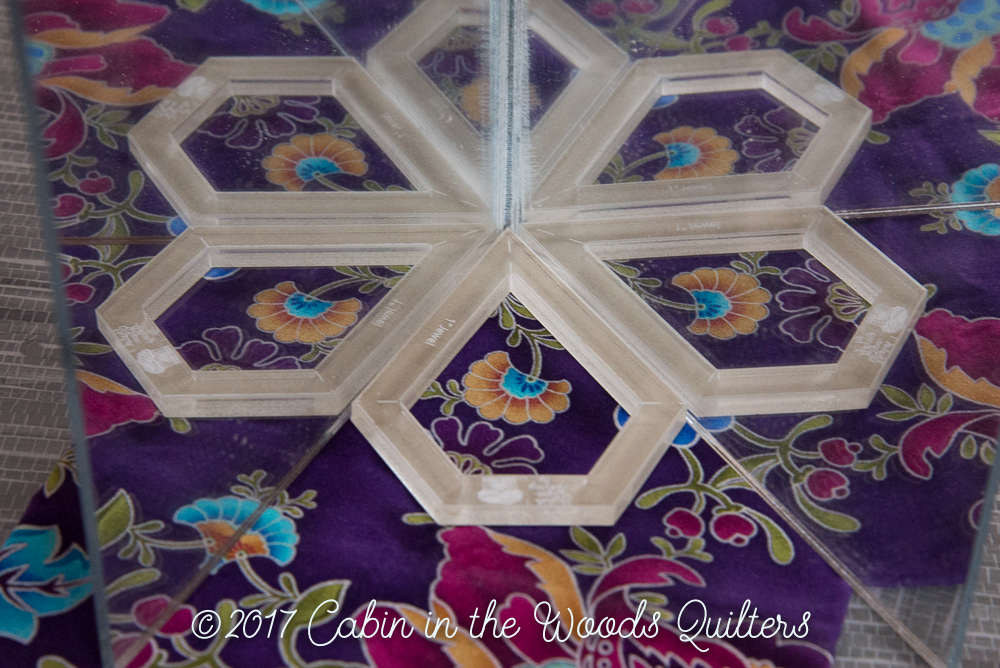 Once you find the repeat that you like… place your template down on the block, using the center of the template to align and cut around the outside of the halo.  Remember to save the piece because you will need to find 6 identical repeats in the same piece of fabric.  Your fabric will look a bit like mice have gotten to it when you are done… but you can skip the layering of fabrics in the first method above.  Make sure before cutting that you can find 6 identical pieces in the fabric that you have chosen.  This method is a little more difficult with FQs.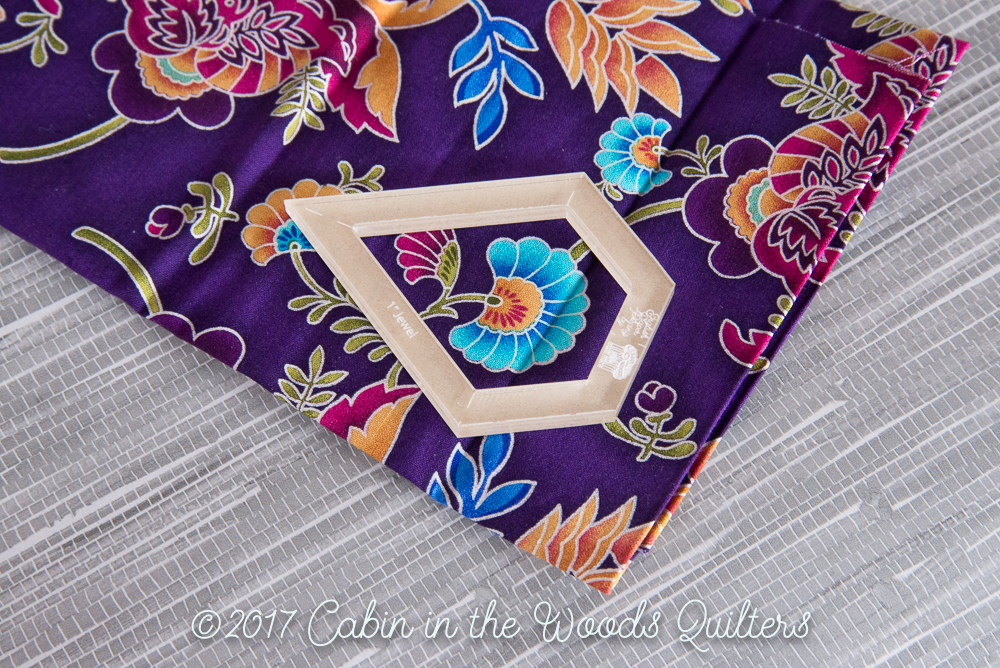 Now let's get to this week's blocks…
Block 11: Susan is created with the 1″ Jewel template from the small set and the 1″ 6 Pointed Star from the Small set.
Block 12: Brandi was created with the 1 1/2″ Hexagon template from the small set and the 1 1/2″ 6 pointed star from the small set.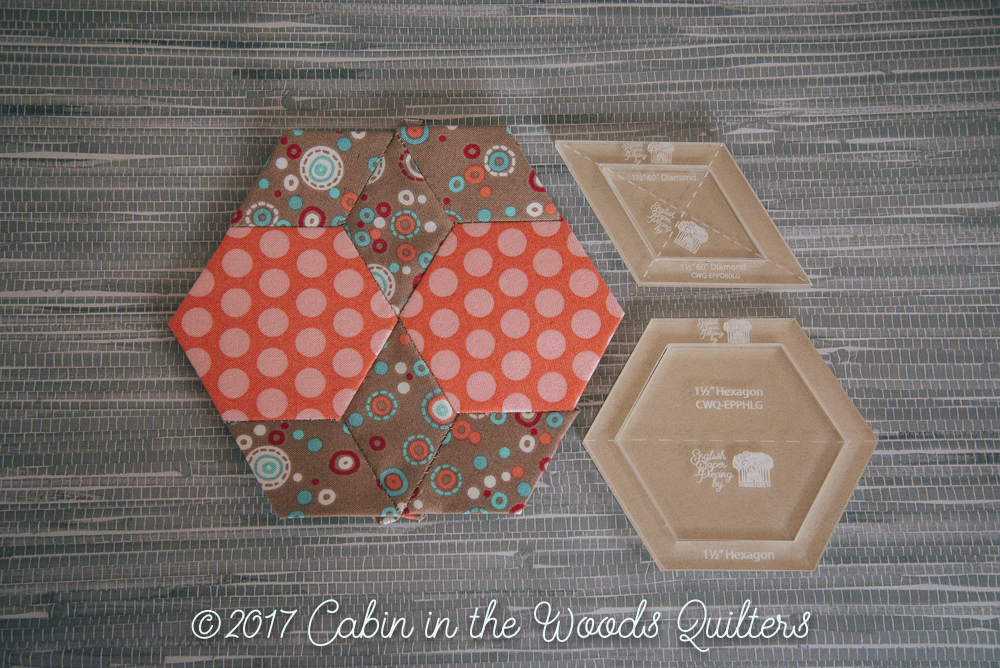 Block 13: Judy was created using the 1″ hexagon from the small set and the 1″ 6 pointed star template from the small set.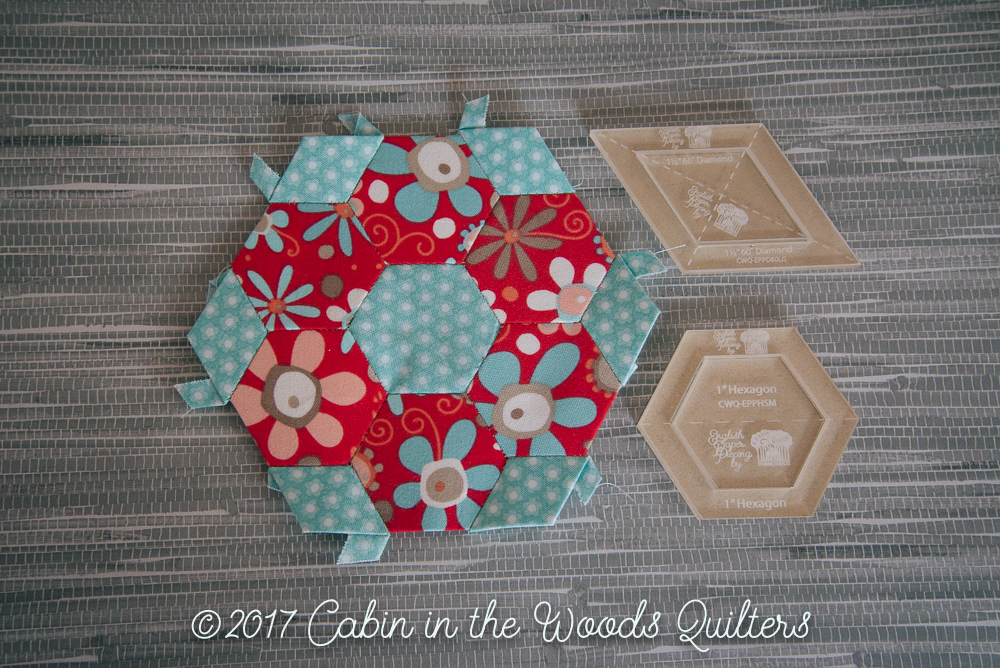 Block 14: Willa was created using the 1″ Hexagon template from the small set and the 1″ 60˚ Triangle template from the small set.
Block 15: Lorna was created using the 1″ Hexagon template from the small set, the 1″ 60˚ Triangle template from the small set and the 1″ 6 pointed star template from the small set.
So far in this Quilt Along we have used templates from the following CWQ sets:
Hexagon Small Set                      6 Pointed Star Small Set                   6 Pointed Star Large Set
60˚ Triangle Small Set                 60˚ Triangle Large Set                   Jewel Small Set
Half Hexagon Small Set                Kite Small Set
We list them here so you can find them easily on our online store.  Remember that several sets are used multiple times throughout the book/calendar and you will use multiple sizes from each set throughout the book/calendar as well.  Of course you will use them again and again throughout your EPP lifespan as the same shapes appear in many designs.  All of the shapes in the New Hexagon will have some relationship to 60˚ because they are hexagon based.
If you missed the other blocks in the Quilt Along you can find them all on our blog page or by clicking here.
Happy Hand Piecing
~Penni
PS… A little bird told me that if you type in the coupon code QUILTALONG in the shopping cart you can get 10% off all EPP templates on the website while the offer lasts (and as always… FREE SHIPPING in the US)