Spring Quilt Market – Portland, Oregon
In my second installment of the Spring Quilt Market in Portland, I took a few (or slightly more) photos inside the convention center. The show was small in my mind compared to some.  I noticed the booths tended to be smaller and not especially extravagant like they are at some venues. I also forget to take photos. When I have a booth… I try to run around and grab 3-4 photos of the most spectacular booths because that is all I have time to take.  This time I had a large ToDo List and I kept forgetting to take pictures.  That might be a good sign that I was focused on the task at hand and making the trip worthwhile. Who knows… but for those of you that didn't get a chance to participate and for my retail friends… below are my best efforts this year.
Booth Pics
This is a little snapshot of Demo Alley during the show. You can tell it was just getting started on this day.  I was on my way to see my friend Susan of Swirly Girl Designs to see her demo on her fusible product called Barely There.  If you haven't seen it yet, stop on over at her website to check it out.
Below is Sue Spargo's booth. I had to stop in and see what was new. I have been hooked on wool for quite some time but the bright and beautiful colors in this booth while have you drooling. I will show you what I picked up from this booth in one of my next posts.
For those of you that love embroidery… you just can't miss with Kimberbell. She has the cutest projects ever and her Orange Pop rulers are the bomb. I did stop and check out the demo in Demo Alley.
I had to stop and take a photo of this booth.  The company name was Applique After Hours.  This booth made me stop in my tracks. I love applique and the bright and beautiful colors in this booth definitely caught my eye. Lots of wools mixed with cotton.  Love.
Of course, I did remember to snap a photo of Elizabeth Hartman's Arctic booth.  Elizabeth always puts an amazing effort into her booths and since I love her designs I had to stop and take notice. I love the muted fabrics and how cute are those little animals?
Here is a little snap of Violet Craft's booth. "The Farmland Series" is the new collection. The side wall had a gorgeous wolf.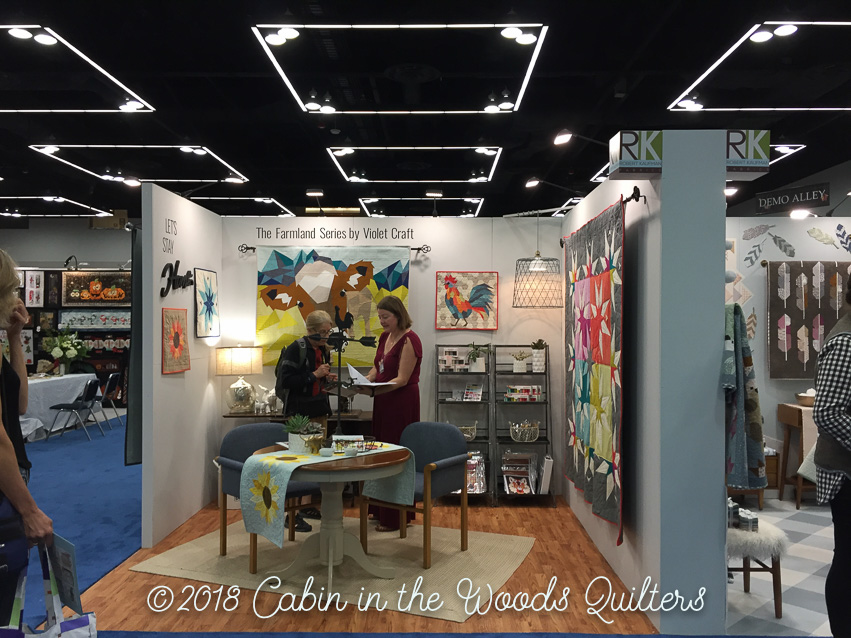 This was a new fabric line. I fell in love with the designs in this booth. I love the colors and the English Paper Piecing Designs. This is the new Abbie collection by Sue Daley.  Can you tell this was Sue Daley's booth?  Sometimes it seems she knows exactly what I am thinking. A quick internet search tells me this will be a new collection by Riley Blake coming soon.
Where did all the people come from?
Moda had the most amazing wall. Instamatic cameras allowed you to put your photo in your state. As you can see… there are some random photos in the margins of the wall indicated the other countries people came from. There were lots of Canadians.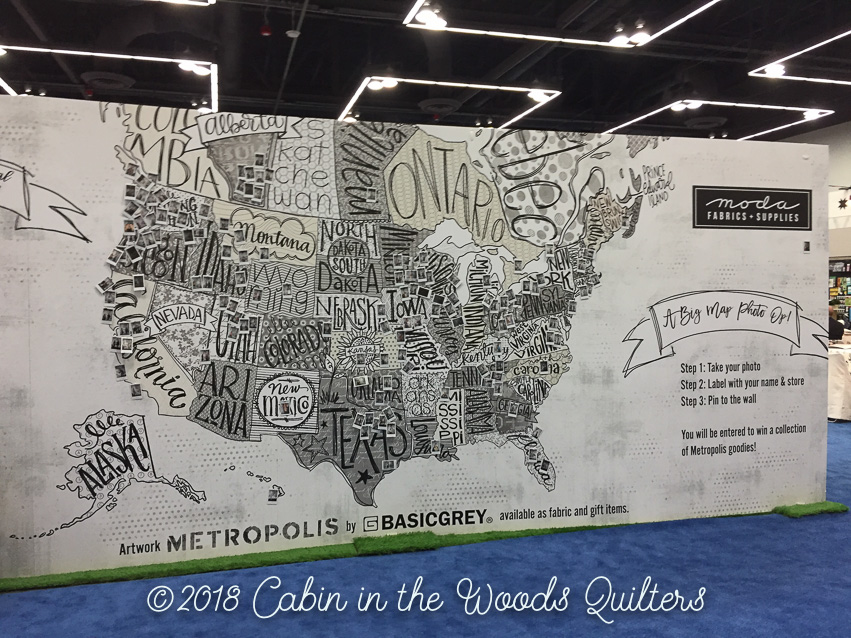 I didn't put my picture in my state but snapped a photo of my current home state (VA) and my birth state (MD). You can see my buddy Rhonda, the local owner of the Crazy Cousin Quilt Shop here in Fredericksburg, VA. Rhonda is the one in the blue. It was a cute display.
Here is a great snap of my friend Terri, the Head Mouse at Purple Moose Designs in New Hampshire, with her husband. I will be spending a little time with Terri this fall at the R&R Retreat in Waterville Valley, NH. There may still be room if you would like to spend Columbus Day weekend with us. Check it out here.
Check out how many came from Oregon and Washington.  What a shocker.  I would definitely come too if the show was that close to my home.
Back to the beautiful
I love the RJR woven wall.  Quilt With Love… what a great slogan!
Here are the latest fabrics from Cotton + Steel and the last from their core designers as they will be leaving for other pursuits.
Here is a shot of sales reps and shop owners working hard at the Moda booth to bring fabrics into your local quilt shop. Pay no attention to the buyer giving me the stink eye. Maybe she didn't want me to see how much she was spending. I wouldn't either.
Here is the adorable booth from my friends at ADORNit. They are the makers of that awesome Chattergraph fabric that you love so much. I get so many compliments on my quilts made with ADORNit fabrics. If you haven't had a chance to check them out… head over to their website HERE.
I hope my local quilt shop grabs up these paper doll panels. I fell in love with these at the show. This little lady makes me want to make a new pattern using an extra skinny panel. How about you? This is a new "coming soon" collection from Riley Blake Fabrics and Joy Studio.
Here is the facing wall. Still so super cute.
Hands down… cutest purse design at the whole show. I believe my shop owner friend from Maryland purchased the patterns for this one. I had to take a photo. You know you need to make one. This is the "Don't Be Crabby" modification to the Alice Handbag pattern by Polka Dot Chair. I don't carry cute little handbags around yet.  I am always carrying a Mary Poppins carpetbag size knapsack around but I will keep this one in mind for a someday project.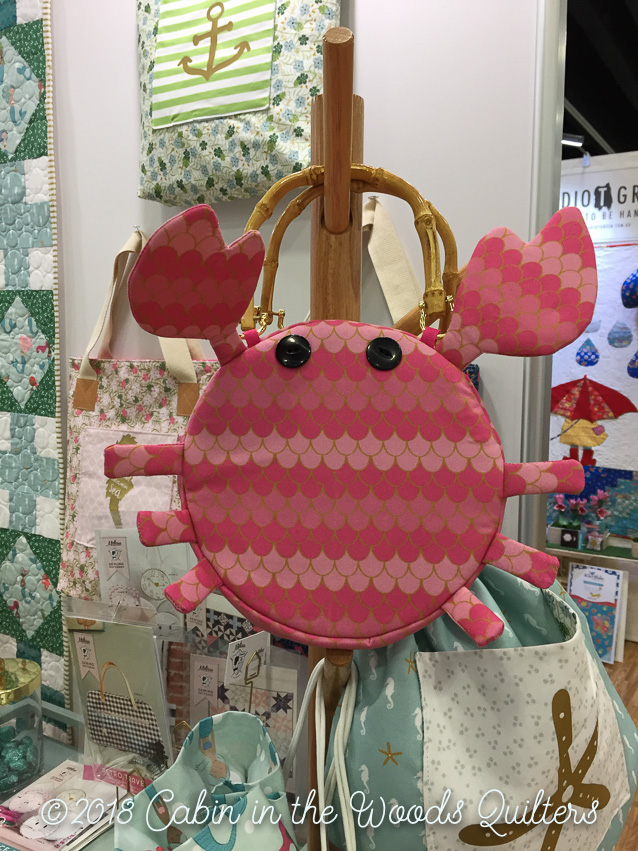 I took a photo of this booth for my husband, who went into one quilt shop with me and I had to come out with the pumpkin pattern and embellishment kit to make the little wall hanging on the top in time for Fall this year.  I still have time. This booth has some super cute stuff that is super quick to make. Let's see how long it takes me to make it.
Special Surprises for Upcoming Posts…
The rest of the photos are all little sneak peeks of upcoming plans that I have for collaboration.  I am just gonna show the picks and see what happens.
ODIF USA (So many awesome products)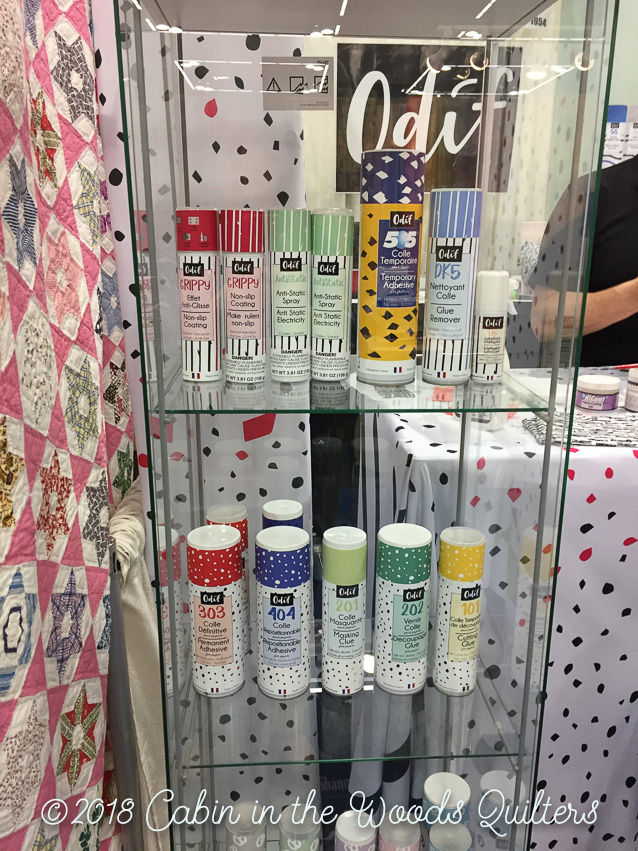 Tilda Fabrics (Oooooo!!!) Norwegian Fabrics that I couldn't pass up.
Andover Fabrics (possibly Alison Glass… but who knows)
Janome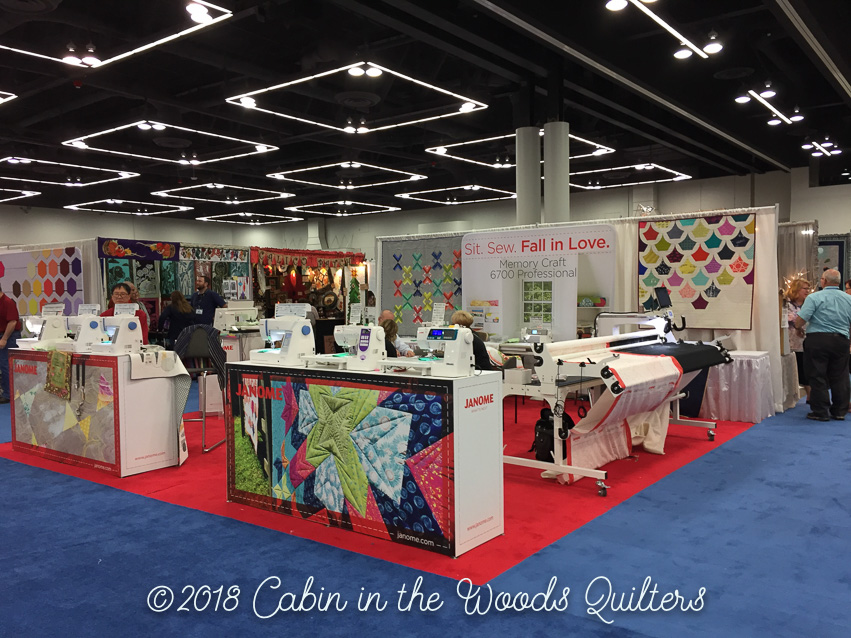 Accuquilt
This was a little snapshot of my only suitcase (before I added any clothes). I might have gone a little wild.
The next post… I promise to share what I brought home. I know some of it will serve for future posts, upcoming products, and upcoming collaborations.  I can't wait to show you what's next.  Oh… and I will post a video as soon as I am finished editing the clips together. I will post that one on my website… but link it to a blog.
Stay Tuned… and of course, Happy Quilting!