We've made a lot of changes over the last year at the Cabin. The biggest change was my sewing space. Due to the growing needs of the company and the family we were forced to relocate the sewing space and the filming studio. We are currently jam-packed in the permanent but unfinished space waiting on labor during the holidays to help finish up our painting and storage solutions.
I thought it might be fun to share our sewing space with you… since you rarely get to see the whole thing. Perhaps we will be able to showcase major changes after the holidays in our videos.
Where the magic happens
You can see from the photo that we are in a perpetual state of mess in the studio this time of year. I'm ok with that. I think when photos of professional design spaces are too neat it makes the rest of the sewing community feel like our studios aren't real. I assure… this place is a real mess all the time.
Where pressing and storage meet
You can see from the photo that I have a lot of storage around my machine. I have three sets of drawer systems. To the left are small accessories and odds and ends. There is a drawer for every purpose so I can see what I have and access it quickly. Next to the drawers is my pressing station where I keep my ironing supplies, pressing sheets and stabilizers. This also houses my Cutterpillar glow mat and several large strip cutting dies for the Go Big.
The threads of success
The drawers to the right contain accessories for the sewing machine and tons of Aurifil (and other) threads on spools and cones. I can open a drawer and find the right thread color when I need it and the drawers provide a little protection from dust and debris. I love seeing the thread colors on the wall… but I know I don't dust them enough to leave them out.
Because you can never have enough storage and because I need a staging area for projects I am working on… I have another set of drawers behind my chair. I am hoping to rid myself of these drawers once our other storage is complete. This particular set of drawers is messy and cluttered and is just in a terrible spot. But this is where I keep zippers, trims, buttons, and tools that I need immediately.
The most important space in the studio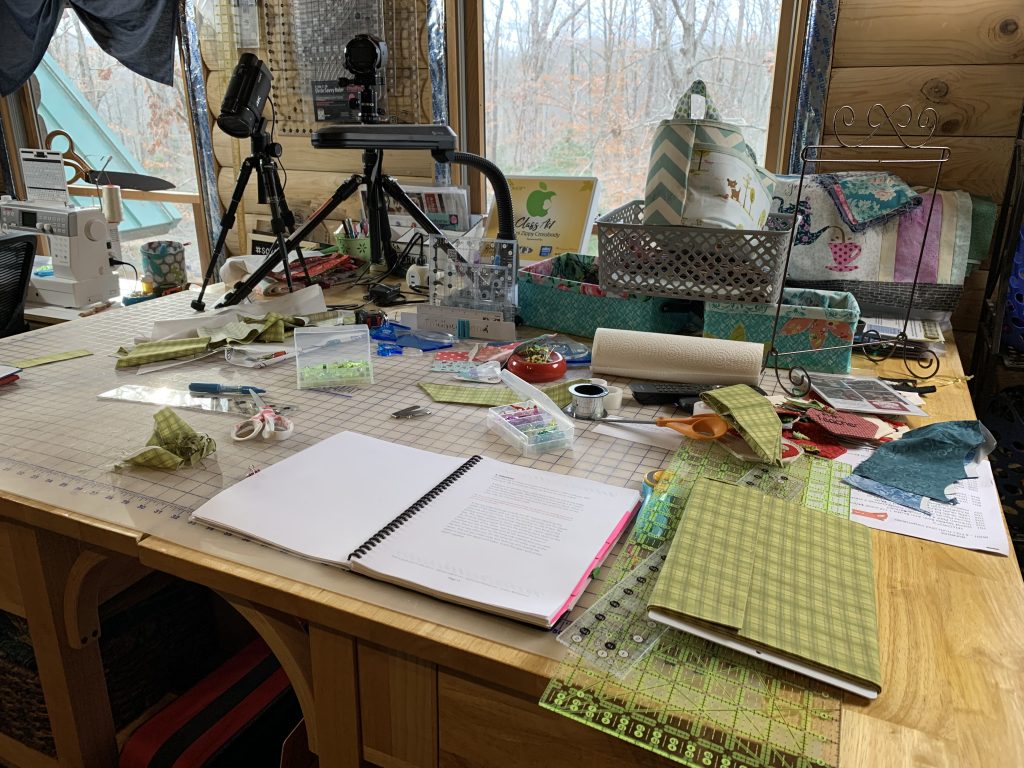 I also have a very large cutting and project table… which is also where we currently film all the videos. This table set has been with me for a very long time. It consists of two large stand-alone kitchen islands purchase unfinished. I got mine from Good Wood and their latest selection can be found here. They are all storage with cabinets, shelves, and drawers all around, and sit back with space between. They are exactly the right height for cutting and provide lots of space to lay your projects out, assuming they aren't covered with camera equipment for the YouTube Channel.
Storage, storage and more storage is the key
For a size comparison… the clear Megamat on the table is larger than 32″ x 56″ and doesn't cover more than 2/3 of the table. There is plenty of room to cut out any pattern pieces, run my Go Big machine, Scan N Cut or any of the other machine located on the back wall. In the current studio I can no longer walk all the way around the surface but it still works well in the space and has three usable sides.
You can see how much space I have in the cabinets under the cutting table. Each cabinet has 4 drawers, 4 shelves, and a 2 shelf enclosed storage cabinet. I great solution for any studio, especially if you like to hide all your stuff out of view.
I love seeing all of your beautiful spaces when you post them on the internet. I get such great storage and decorating ideas for my space. I hope all of you will take the time to post a photo of your sewing space in the comments.
Until tomorrow… Happy Quilting!