Good day gang. 
Spring travel and show season is over for this girl and I am enjoying the awesome weather and sunshine that we missed in Virginia this Spring. Here at the Cabin we are spending the summer putting together new designs for patterns and templates, a new book and we are working on several guest blogs and fabric projects for ADORNit fabrics, Dear Stella fabrics and RJR fabrics as well as new products for EE Schenk, our newest distributor.
My eldest graduates from High School tomorrow and will soon be heading off to Hampden-Sydney College this fall so we are preparing our home for lots of family and friends to visit today and tomorrow. We are getting together for fun and fellowship and to celebrate our son and are planning lots of games for the guests to play while they are here.  The best part about cleaning up here at the Cabin for the summer is that I have plenty of space to host my best quilt friends for a little downtime. I love getting together with the quilt girls and sewing together and chatting together. (And eating together of course). Though sometimes it's just nice to gather together and chat about our lives, our children and grandchildren and all our many UFOs that we would love to complete. 
Speaking of games… I'm really excited to be a part of the Quilter's Block Party Game Blog Hop this past week. Today is my day in the HOP.  If you haven't had a chance to see this game you are really missing out.  Created by my friend, Terri Sonta, Head Moose of Purple Moose Designs, the Quilter's Block Party is a super fun game for all ages.  The cover of the game says, "A lively drawing game for a gaggle of quilters."… but I have to say… I have had so much fun with this game with peeps from all different backgrounds, even my boys.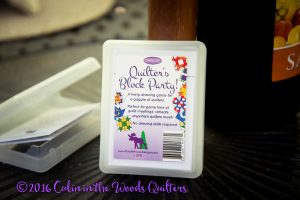 It's the perfect game for a gathering of friends and super easy to play.  Similar to Pictionary, all you need to a place to draw, some sort of timer and a group of friends that like to have fun.  No real drawing skills are required.  Personally I think the worse you are at drawing the funnier it is.  If you set the table they will come… so let your peeps know that you are planning a gathering (in my experience it always helps if you hook them in with a little wine and/or food) and set it up.
The game includes carry box, instructions and 54 cards.  Read the instructions prior to playing so that you can decide on a few common rules.  Then make sure each player drinks the wine so they eventually forget what you have decided and hilarity ensues.  Finally open the box, pick teams and draw.
You are not allowed to draw words or numbers or the quilt block itself (cause if you are a quilter that would be cheating)… and you have to get your team to guess the answer in one minute on the clock.  Draw your first card…
Think about how you could draw to get the right guess.  Sometimes you have to think outside the box.
If you draw a card with something particularly difficult to describe you might have to give some hints… in your drawings of course.
Although in this case… you can confuse your teammates completely (which I also find completely hilarious)…
I recently had the opportunity to play with a fabulous group of quilters and we all had an awesome time.  If you are looking for something super fun to do in the evenings at a retreats, for a special extra fun guild program night or at a porch gathering with your quilting peeps (like me), definitely pick up a copy of the Quilter's Block Party Game.  You can also enter for a chance to win one for yourself below.  Enter for a chance to win on Facebook or our blog.  Then pop over to Purple Moose Designs for a chance to win Terri's GRAND PRIZE.  Or you can purchase the game HERE.  Be sure to visit all the other blogs as well and see what those quilters are up to.  Also be on the lookout for more cards in the Quilter's Block Party Series by Purple Moose Designs
~Happy Quilting
a Rafflecopter giveaway