As you read this we have just closed another yearly chapter on the Lancaster Quilt Show for Quilt Week. Each year Lancaster, Pennsylvania is visited by Quilters from around the world who flock to Amish country for a week of sales and celebration in honor of quilting. Whether you choose to visit with friends for the day or make a retreat home for the week, Lancaster is bustling with visitors and shoppers. My show, historically at the Continental Inn on Route 30 and the AQS show in the convention center downtown are the center of the event and are flanked by quilt shops far and wide catering to the quilters.
Every year we attend and bring all the latest products we are getting together for Spring Market. The Quilters really look forward to seeing what's new. This year we were gifted with the glorious snow storm affecting travel and setup for all the vendors. Restaurants were closed and travel was treacherous but we made it through setting up in the snow and sleet to bring the quilters a beautiful booth.  What we were unable to bring you was a timely blog post. We were also plagued with intermittent wifi at the show and despite my best efforts I just could not get the posted photos to load.  So instead of getting a request to come and visit me at the show to see what's new… below are the newest products to hit the website.
Machine Quilting Rulers
Our latest products premiering at the show are our beginner Machine Quilting Rulers. Three sizes of circles, our Shorti, our 3×8 Handy Straight, and our Curve Companion Petal.
These are the basic starter rulers for newbies and are perfect to showcase in our Doodle Quilting class or for our upcoming Quilting with Rulers class (not quite ready). They are 1/4″ thick and can be used (as all rulers and templates in the Cabin in the Woods Quilters collection) with long-arm, mid-arm, and domestic sewing machines with a RULER FOOT. All of our rulers have engraved lines at 1/2″ measurements and most have engraved lines at the 1/4″ measurements.  If you are unsure of what a ruler foot is well here is an example below.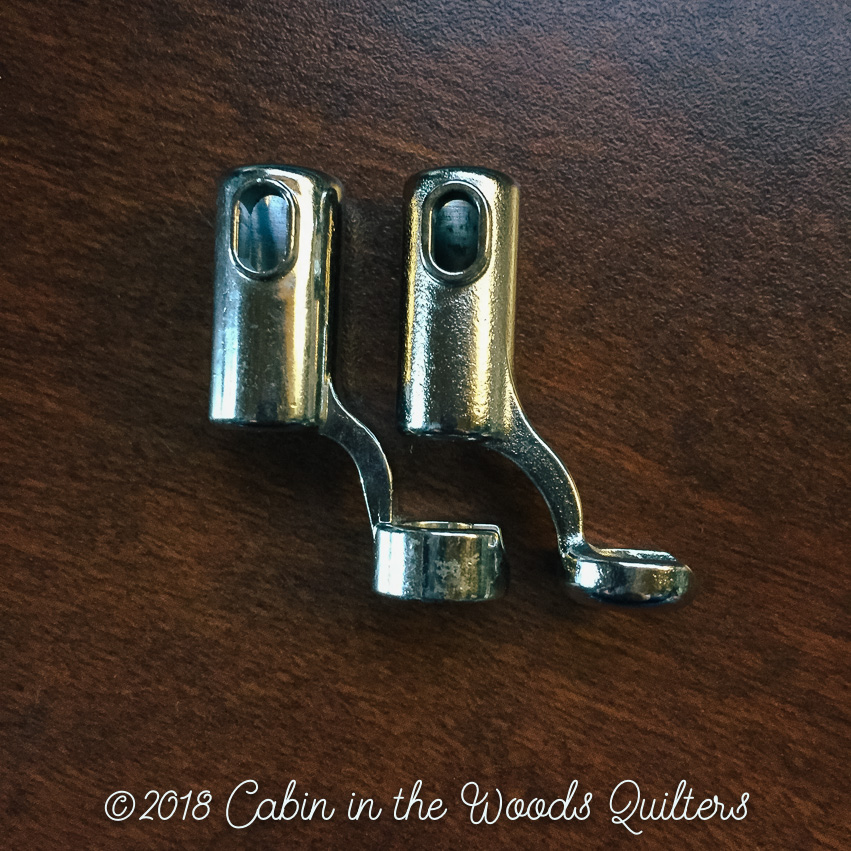 The standard free motion quilting foot for my machine (Innova) is on the right and the ruler foot for my machine is on the left.  The ruler foot base is much thicker to prevent the foot from hopping on top of or underneath the ruler when stitching on your quilt top.  Do yourself a favor and do not attempt to use rulers without a ruler foot. You will save yourself an expensive lesson.
Over the coming months, you will see more posts talking about how to use the rulers and maybe a video or two. My favorite new tool has multiple uses and those who have taken my doodle quilting class will recognize this as a similar tool to my teaching tool. I'm super proud to show you the…
Quilter's Design Companion
The Quilter's Design Companion is outfitted with square markings every 1/2 inch, circles every 1/2 inch, 16 angles around the circle, a side section for borders and sashing up to 6 inches, 45˚ diamond, and 60˚ diamond angles. This little companion measures 12 x 18 inches and works great for practicing your quilting stitches and for planning out quilting stitches on your project. The guidelines help you balance your design. Draw right on the surface with a dry erase marker and erase when done (The cheaper the marker the better. I prefer the markers from target).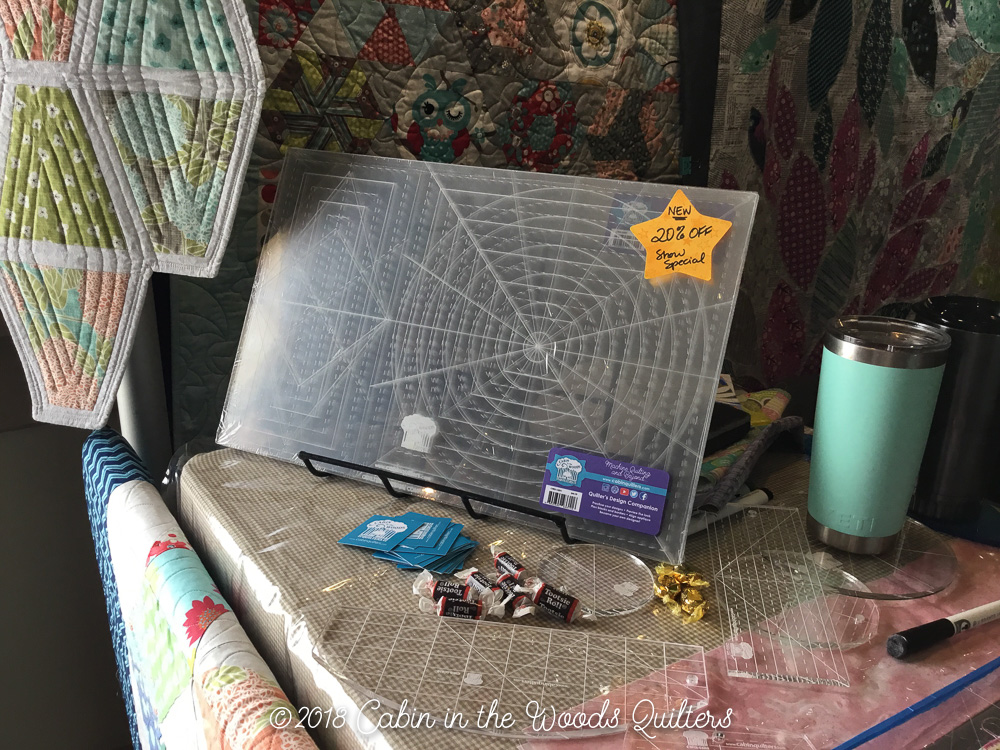 Place the design next to your quilting surface as a reference or slide along the quilt on a longarm.
Mark your starting point and direction of the design to plan your continuous line quilting.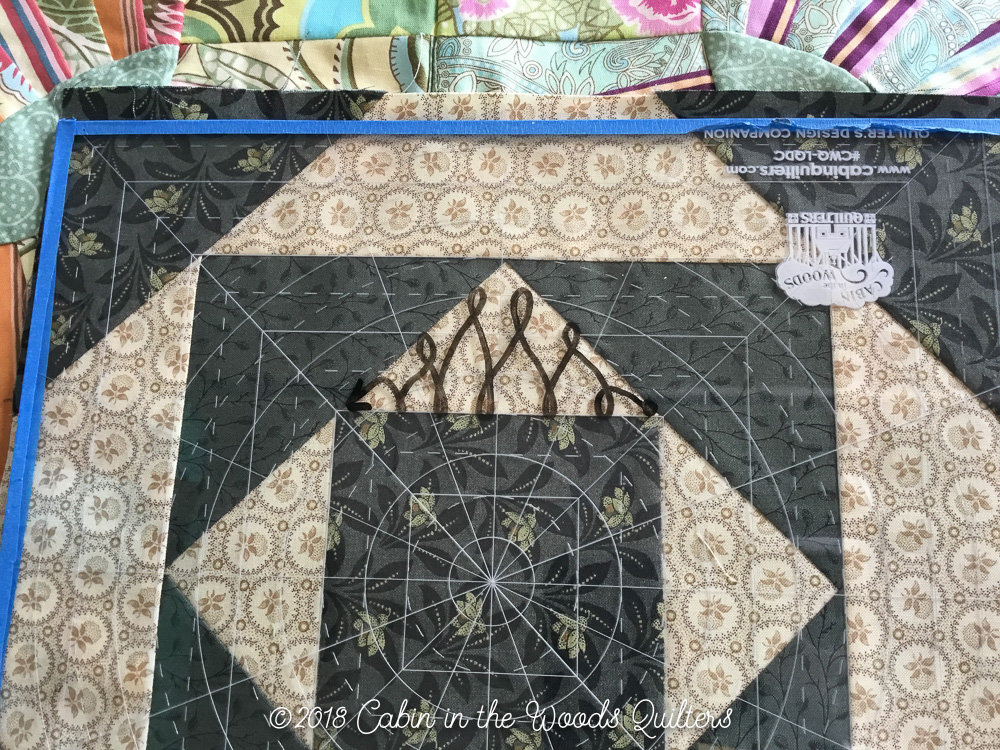 Preview what the designs will look like on the quilt top.
Most importantly… practice… practice… practice. Erase the designs and start again. Practice your feathers.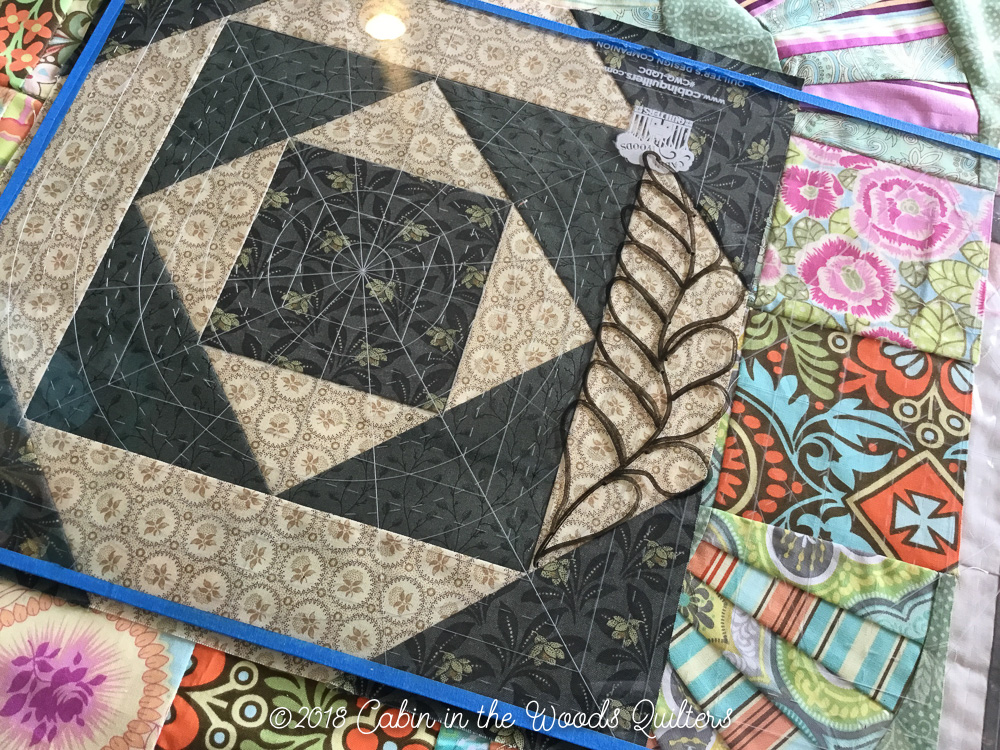 As you can see, I'm still practicing. It's a labor of love. Use the companion as a practice board, reference board, and communication device with between longarmer and customer. Plan your own quilting. Use it for applique placement to create the perfect block balance. If you transfer your designs to quilting paper, use a light board when you get your design just the way you like it.
The Quilter's Design Companion premiered at the show on show special for $35.99 (starting price is marked at $44.99) and since you were not able to get the blog post telling you to come to the show and grab the new product, I will extend the show special on the website for the next month. Use the COUPON CODE: QUILTWEEK in your shopping cart and get the show special (20% OFF) on the Quilter's Design Companion and all the Machine Quilting Rulers through April 15th.  Let's call it our Lancaster Quilt Week / Easter / Tax Day sale.  You can view the items ON SALE right HERE.
Little Easter Gifties
Speaking of Easter… if you are looking for a cute little gifty for your Easter peeps… check out the Holiday Hexie Ornaments pattern and the little Easter Bunny Gift Card holder. I know that my boys are getting little gift card holders for Easter because no one really needs any more candy. This pattern uses our Charm Hexie template found HERE.
I will be back in the studio next week with new stuff and a product review from Love + Leche. Check back by and see what's happening. Until then… Happy Quilting!