News
We have been busy little beavers at the Cabin.  I have welcomed a new assistant in the last couple of weeks. We are working tirelessly on new products. I've also been spending time with all of you at various classes and guild events.  I have been planning out lots of new ideas for all of you and trying to get into the studio to get those ideas off the page and onto the design wall.  I have had lots of occasions to spend time with quilters this fall including spending two days on a shop hop bus being the Bus Mom and making sure all the "quilting ducks" stayed safe and had plenty of time to shop.  Picks can be found on our Instagram feed (@CabinQuilters… Follow Me).  Check out the latest scrap quilt class in my traveling classroom.
The Nested Petal Class
One of the most recent experiences that I had was teaching a class for a Virginia state guild where I got to meet quilters from all over my home state.  I taught a class called Nested Petal Appliqué using my Merry Blossoms pattern, my Nested Petal Template and a machine piecing technique using Terial Magic.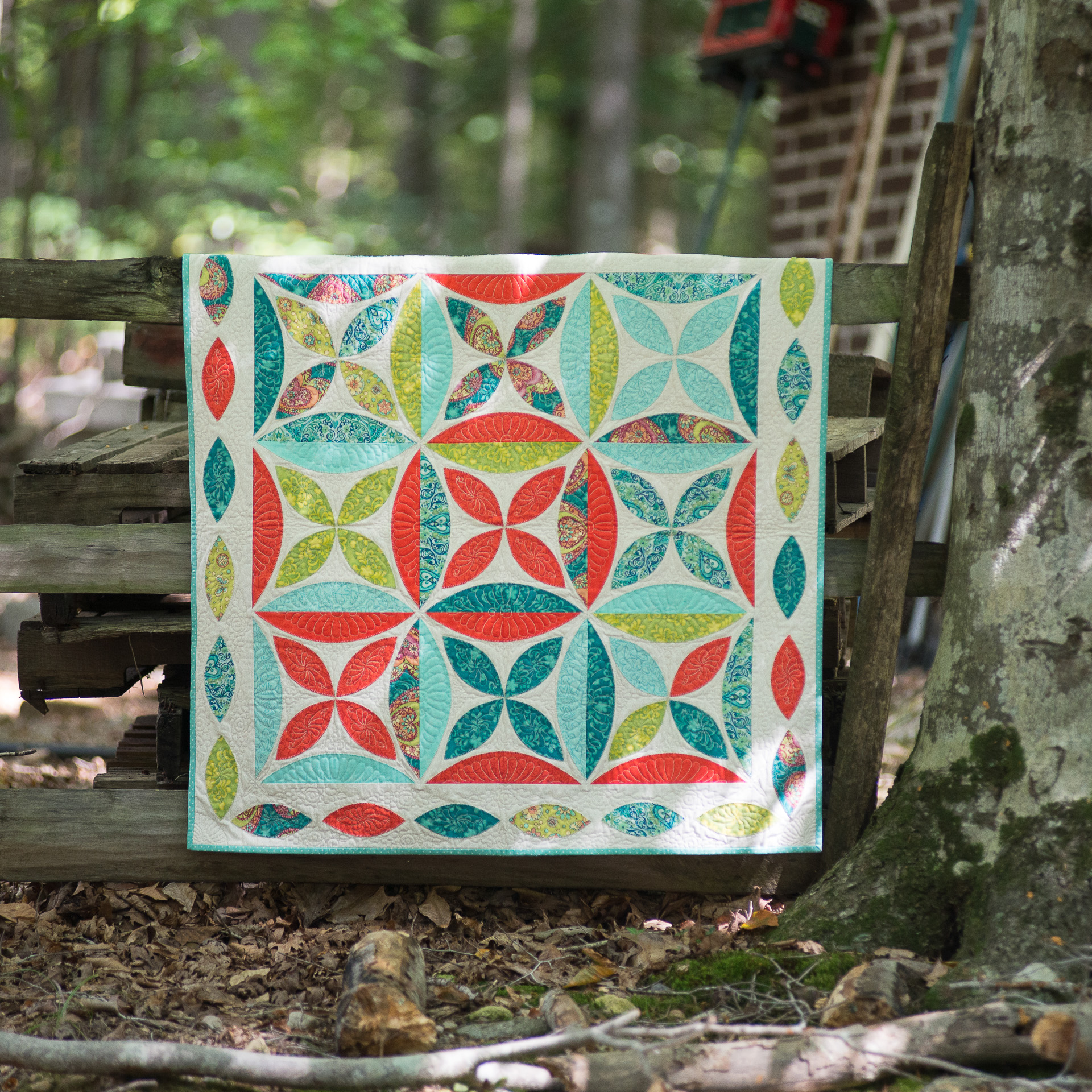 Scrap Quilts
I do love that awesome petal shape… and showing students the different ways the template can be used.  It was the perfect class to teach in the Fall… you can get inspired by all the falling leaves around you. I was so excited to see the students fully embrace their creativity while putting together their blocks.  Several students took me seriously about using up their scraps and created their blocks using their leftovers and stash.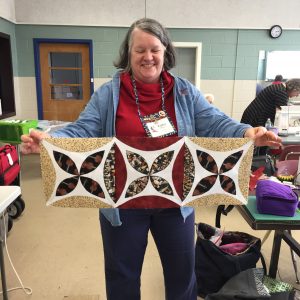 I
Art Quilts
Don't you just love the way those fabrics jump right out of the black fabric background?  This is one of my favorite reasons to be a traveling teacher and visit with other guilds.  While I may be there to teach them… they teach me so much as well and get me super excited and inspired to create new designs.
One of my students was an Art Quilter and was inspired to use the Keychain Petal template to create her own design.  We took her cut petals and put several layouts together.
Guess which one was her idea?  I can't wait to see what she does with her quilt.  I think I may get to see her at an upcoming traveling program in February and I am hoping her quilt is complete by then so I can see it at Show and Tell.
Playing with Fabrics
Here are a few more photos of the fabrics that my class chose to put in their quilts.
One of my students even chose to use variegated thread. The thread gives the blocks a totally different look.
They were all so awesome that it was hard to pick a favorite.  I really liked the dark background with the bright petals because I got to see my pattern in a new perspective.  A few of the students used darker fabrics which gave the pattern an interesting look.  I really like the bright ones because they are super happy.
Happy Students and Happy Fabrics
I always love seeing the face of a happy student making progress.  This student pictured was using black and red fabrics.  These last two photos above were my favorite bright fabrics.  They were bold prints and had lots going on and I love that in a scrap quilt.
This was a great way to spend a Saturday in Manassas, Virginia.  I hope they invite me back very soon.  If you think you might be interested in taking a class or workshop or just want to see a great program then drop me a note and ask for information to take back to your favorite guild or retreat.  My events calendar is posted here on the website and I would love to come to your town for a visit.
Happy Quilting
Up Next:
Posting about one of my new favorite toys.