I just returned on Monday from the 2019 International Quilt Market in Houston. Even though I did not attend Spring Market, I was represented in the Free Spirit Fabrics booth with a rendition of my Scrap Petal Garden Quilt. So much has changed since May of this year. I have three sons in college now, we have made a big transition in the studio, and, in addition to my duties for Cabin in the Woods Quilters, I am also working for a fabric company.
This Market was a complete change for me. For the first time, I attended as a Sales Representative for Michael Miller Fabrics. I spent a lot of time on the floor looking around for great products like normal and making introductions in the hopes of collaborating in the future. But, I was also looking around for companies that would be great candidates for Michael Miller's Ambassador program. I also helped set up in the booth a little and take a little pressure off the corporate design team when possible.
The Set-Up
Ever wondered what setup looks like behind the scenes? Some retail customers have never even been to Wholesale Quilt Market. I can only describe it as a Quilt Show on steroids. My first market was a big shock. Not only was I surprised by the scale of the booths and the hustle and bustle, but I was also a vendor with a booth and had no idea what to expect. But, even the shop owners have no idea what happens behind the scenes during setup. From the long walks to the convention center from your trailer, to the long walks to your aisle, to the shimmy maneuvers around crates and forklifts, it's all a lot to accomplish in 2 days and that doesn't include building your booth and participating in whatever schoolhouses, take and teach classes, preparing for the crowds at sample spree, and anything else you have on your schedule.
Rob Appell put together this video of the setup of the Michael Miller Fabrics booth so that you can get a small sneak peek into what actually goes into working the booth. If you look very closely during setup you may see me helping with walls and putting together furniture… but if you blink you will miss me.
Setup and behind the scenes photos
Here are a few of the photos I took of the MMF booth during and after setup and the floor.
Fun on the Floor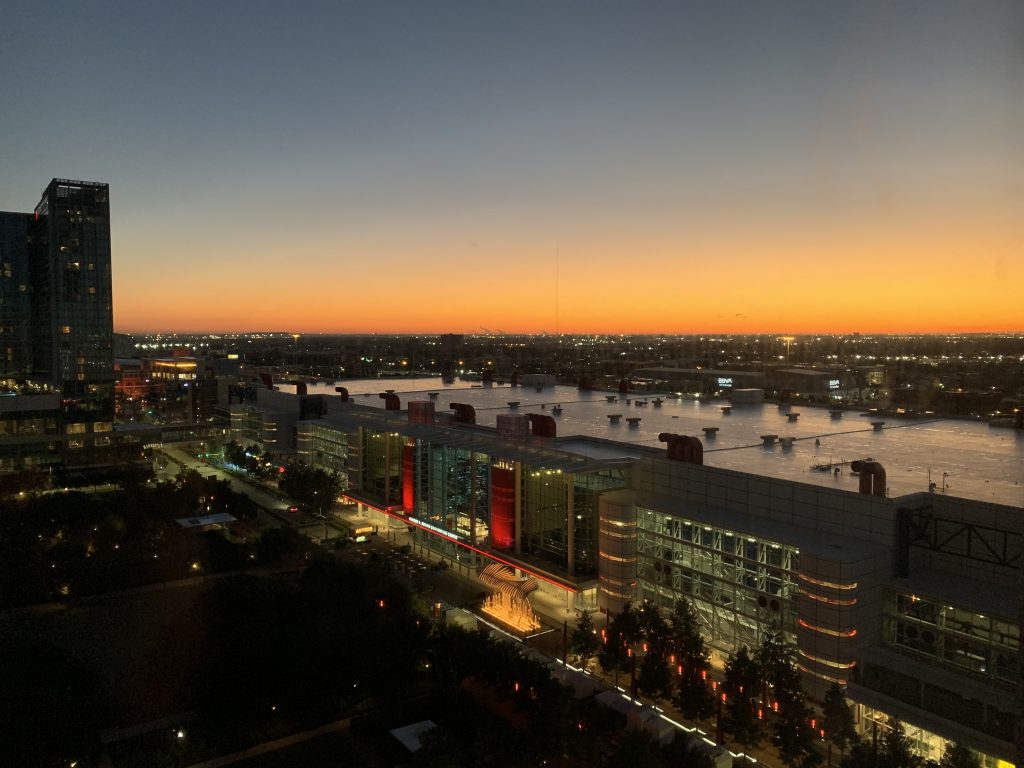 Even though we were both there for work, we did manage to have fun. You meet so many quilting friends in the industry and sometimes the only time you get to see them is at Quilt Market. There are book signings, demos, classes, and general booth shenanigans. We had fun taking photos with Desiree and her husband from Desiree's Designs.
Check out the nametags Terri and I were wearing. My birthday always falls on Fall Quilt Market. Terri gave me this awesome LED nametag to promote my business. It was a show stopper… literally! I was stopped hundreds of times and asked about my nametag.
Goodies from Market
I did manage to bring home some great goodies from Market and did an unboxing video for you. You can watch the video from my studio and find all the links to the products below.
Products From Market
Tutto
Tutto makes awesome cases for sewing machines, sergers, and embroidery transport. Did you know they make bags for luggage, business, and pets as well? They break down to lay flat and make it easy to take on the plane and an extra carrier for whatever your needs are. Here is a link to Tutto on Amazon.
Free Spirit Fabrics
I mentioned a few lines by Free Spirit in this video… here are the links to each line. Homemade by Tula Pink can be found here. Kaffe Fassett's Island ColorWay in Cool can be found at Free Spirit.com. Kelmscott William Morris & Co collection can be found here.
Colorful Batik Panel Quilts by Judy Gula
My friend, Judy Gula, has a new book called Colorful Batik Panel Quilts. Colorful Batik Panel Quilts shows you how to make bold, graphic, and joyous art quilt projects and home décor using batik panels created by Indonesian artisans. Judy knows a lot about batiks and about mixing colorful fabrics. Check out her new book here.
Create Art Quilts with Panels by Joyce Hughes
Once I saw Joyce's work, up close and in person, I knew I just had to get a copy of her book. Joyce gives us six step-by-step projects include seasonal panels, beautiful florals, holiday designs, and gorgeous landscapes. You can add dimension and texture with easy thread painting and embellishing techniques. See your fabric come to life as you sew and layer threads on top of the design. Get inspired by a photo gallery of magnificent art quilt masterpieces. You can find Joyce's book here.
Desiree's Designs
Desiree's Designs booth showcased her Steampunk Collection. You can visit Desiree's Designs on the web and check out her fabric collection at QT Fabrics.
Laminated Cotton by Impwear
I picked up that great piece of laminated cotton from ImpWear. After feeling the fabric, I knew I had to pick up a piece to play with. They sell the fabric and premade projects made with the fabric. Check them out on the web at Impwear.com.
Art Gallery Fabrics
If you would like to look at the curated Color Master fabric collections from Art Gallery Fabrics you can find them online with all the lookbooks.
Fat Robin & Skinny Robin from Robin Ruth Design
If you are interested in trying your hand at the Mariner's Compass or New York Beauty in 16 different sizes strip pieced using NO Foundation, you need to check out the Fat Robin and Skinny Robin book and ruler sets by Robin Ruth.
Material Girlfriends
If you want to see the cutest set of twins and also see a great way to make a Hunter's Star Quilt and lots of alternative settings, you have to check out Material Girlfriends online. After seeing their demo, I was convinced I needed to own that Confetti Star pattern. Also, below are the links to the three patterns I showed in the video so you can purchase them.
Class Act Kit by Clover
This the kit by Clover and its partners to make the Zippy Bag by Sallie Tomato. Sallie Tomato has lots of great patterns and amazing hardware for all your bag needs. Also included in the kit were fabrics by Art Gallery Fabrics, Renaissance Ribbons, Pellon Shape Flex for bag stabilization, and Wonderfil Threads for sewing. Clover sells the best little gadgets for getting everything done including the marking pen, Turning Tool, Wonderclips and mini wonder clips and pins for putting the bag together.
Aurifil Threads – Color Builder
Here is a link to the Color Builder threads program that we will be running starting in January. After seeing the display, I'm very excited to start this new program. I love having a way to help build my Aurifil thread collection with this monthly subscription. I hope you will too. If you are looking for a special treat for yourself coming up in 2020, consider signing up for our Color Builder subscription and get free stuff too.
Links to other Great Companies Mentioned in the Video