Hey, there gang. I took far too long a break from the blog and I am just now catching up. It seems that even if you don't have a booth at Spring Quilt Market, there is still way too much to do to prepare. Mostly I had to make sure that the businesses were functioning and meeting their deadlines, finish up the Row By Row for a customer, order all the product for our upcoming classes and productions and just, in general, send tons of emails.  Thanks to all of you for your patience with orders while I was away. The staff was completely overwhelmed with personal issues and maintaining the status quo.  It didn't help that our son was involved in a serious car accident the week prior and our dog was injured and was unable to walk. Life truly does get in the way sometimes. But the dog is on the mend and our son was ok and so I went along with the trip as planned. I headed out to Spring Quilt Market in Portland, OR. This was my first time visiting the city and I was super excited to go… which was an added bonus to catching up with friends and business associates and checking off all the boxes on my To Do.
A little visit with all my friends
I filmed a video on the main aisle of the floor and a little look at all the sneak peeks outside the show hall and we are working on editing it for you for our YouTube channel… but in the meantime, I will take you through all the awesome sites. BTW… I was super busy and actually forgot to take pictures most of the time so my snaps are limited to business but the video will help you take in all the sites.  Some of my friends did a much better job with visual documentation.  I was a woman on a mission.  I did manage to snap this awesome shot of me with my friend Terri from Purple Moose Designs having a cocktail in the lounge prior to one of the dinners. Have I mentioned how much I love her? We have the best times.  She also brought her husband with her for a couple of days before they headed off for vacation and I just might love him too.  LOL
By the way, those cocktails were amazing. Off camera is our Canadian friend Bill from Bill Locke Designs. He's not in this photo but we love Bill and it's always good to see him. Since I only get to see him at Market it was nice that I ran into him several times during the show. He's always so friendly and upbeat.
My View of Portland
I had the privilege of staying in a little house in Nob Hill in the Alphabet district with 3 Quilt Shop owners and 3 other designers. That's right… 7 ladies in the same house. We had a ball. I was a 1/2 block from Starbucks where I was able to feed my coffee habit every morning and develop an addiction to butter croissants, for which I may need rehab. I've been jonesing since we left.  (I forgive them for spelling my name wrong every day. It was so early when this was taken.)
Also, right around the corner, a couple blocks up was this awesome place. I never did make it to VooDoo Doughnuts… but I heard from my Uber driver that this place is much better anyway. I had one bite and it was to die for. Making a note to go back again when next I'm in Portland.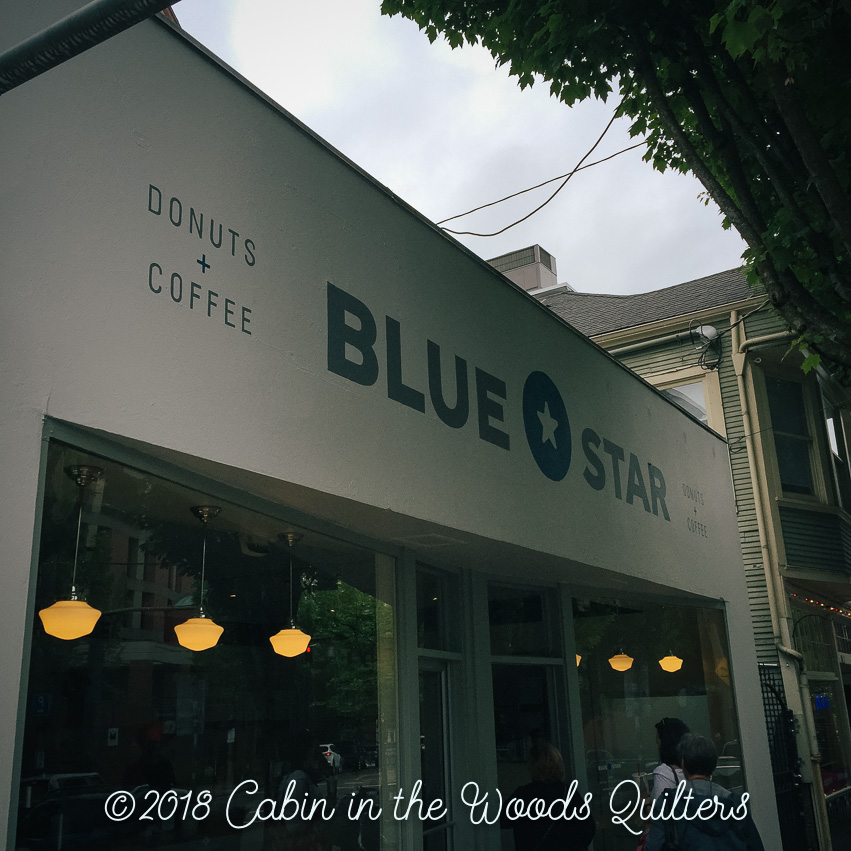 We were on the other side of the river from the Convention Center so this required a Street Car train change every morning.  Here is the view from both ways while waiting for the A train.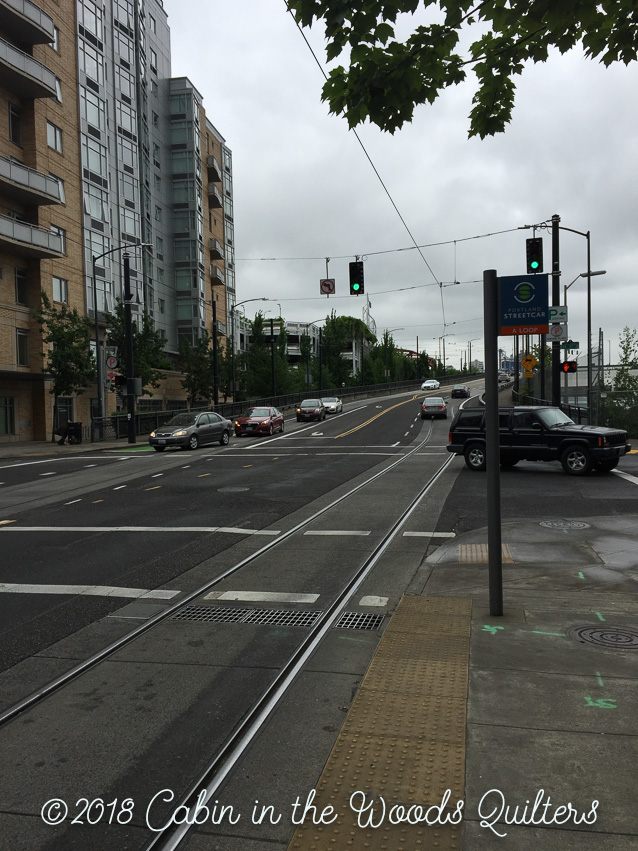 The Convention is just over that hill and a little to the right.
Right behind that Guinness truck was the coolest bakery. They had seating outside so you could grab your pastry and coffee and sit on the corner to watch everyone go by. That's kinda cool and homey.
Here is a few of us enjoying mass transit while in the city. (I missed the memo on the sunglasses)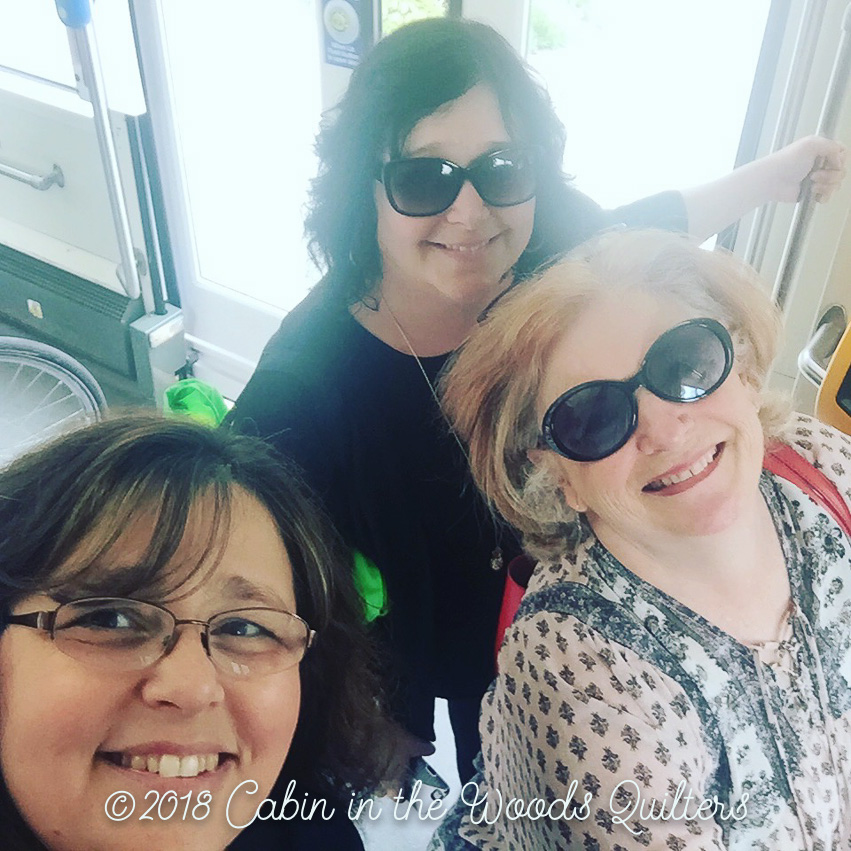 Of course, I was able to take in all the sites from the train.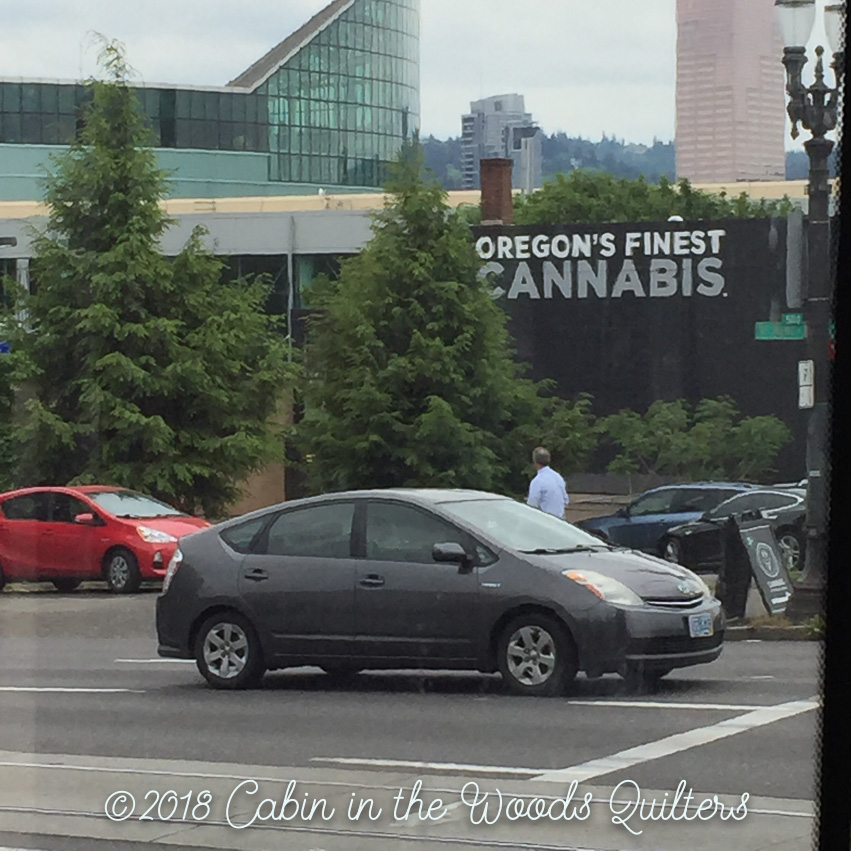 Does anyone else besides me still find this just a tad weird? Perhaps because I live around the DC beltway this just seems so foreign to me. But I have to admit that the names and the artwork were pretty cool. I also found the city to be quite friendly and, dare I say, mellow. Check out the graffiti in this restaurant. AMAZING!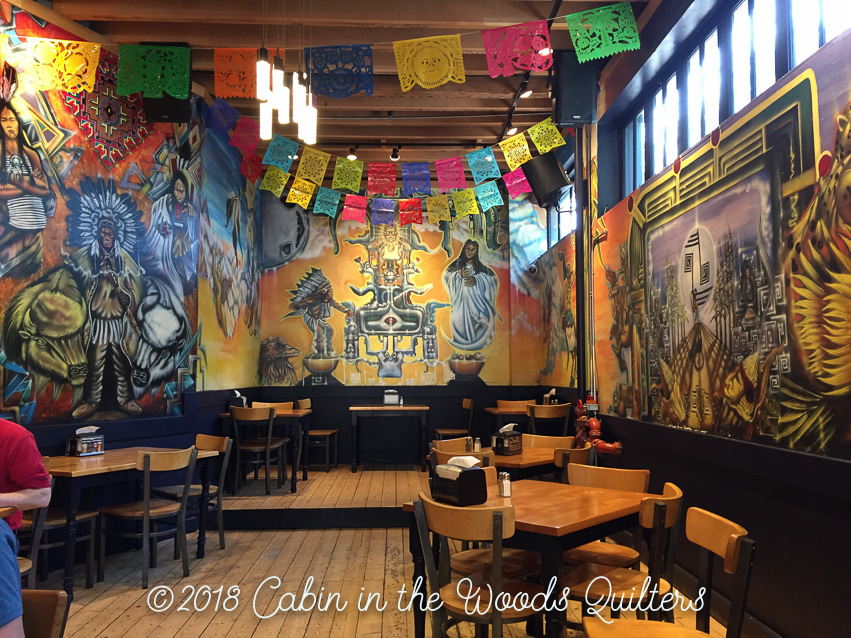 …took in some awesome sites…
… and were both passively, and in the case of one bottled water vendor, not so passively lectured on the environment.
Our Last Night
Here is one last photo of the whole gang (minus Phyllis who missed our last night dinner) at our last Mexican restaurant before our Monday morning departure. Do you recognize some designer faces? I'm the back looking ready to head home. You might recognize a couple of shop owners in the front… along with my soul sistas of design.  Maybe you can guess which ones are from where.  Here are the links… Swirly Girls Designs, The Fat Quarter Gypsy, KellyAnn's Quilting, Material Girls Quilt Boutique, Poorhouse Quilt Designs, and Quilting Adventures… and of course you know who I am.
Next, I will show you some of the sites around the convention center… STAY TUNED THIS WEEK for all the goodies.