This is the time of year where spouses may be looking for the perfect Christmas gift to dazzle you with. I can't tell you how many ask me for an opinion on the perfect sewing machines. Of course, I can't answer that question. Who really knows what the perfect sewing machine is? That really depends on you. But I can tell you what I use and why.
The Embroidery Machine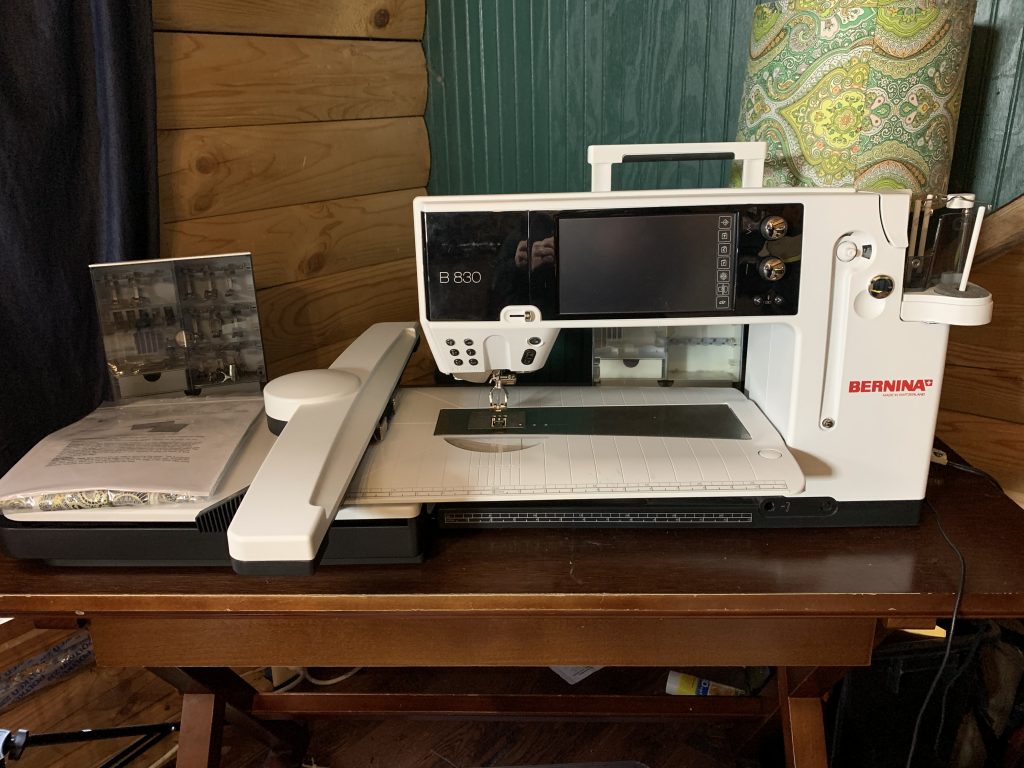 My embroidery capable machine is the Bernina 830 (the newer computerized model) with the extra-large throat. You may notice that I don't post very much about machine embroidery. I don't do a tremendous amount. In fact, with my schedule, I haven't done embroidery in about 6 years. I use this machine primarily for quilting and any specialty sewing since I have just about every specialty foot known to man. I have used it to couch threads, piece quilts, and free motion quilt. I really like this machine, but it is very pricey for the average individual and probably a bit wasted on me for the lack of embroidery I do. It does have the MOST beautiful stitch and runs like a dream.
The Workhorse(s)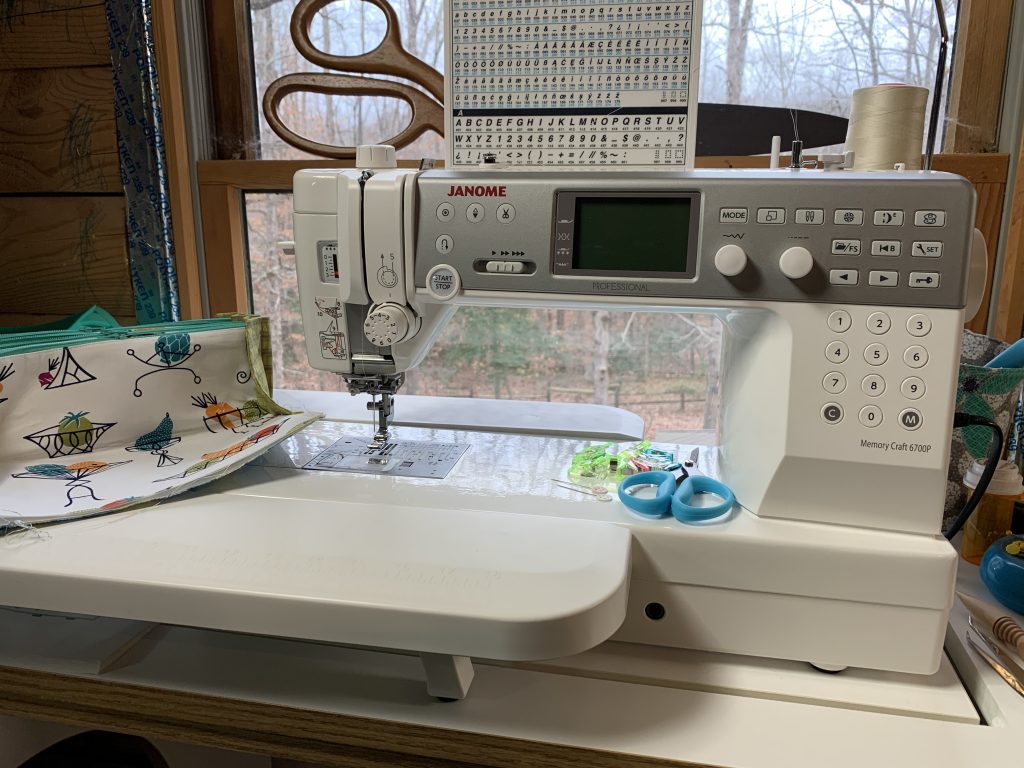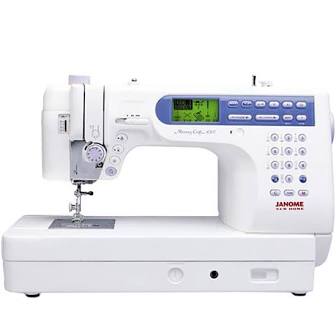 Above is the latest baby added to my collection, the Janome Memory Craft 6700P. As you can see this is a large throat machine as well. That is really important to me as a sewist. This is a stitch only machine (without embroidery) but it is computerized and programmable. I love this machine because it's all metal and sews like a beautiful tank. You just can't destroy them. She is the new version of my workhorse machine, the Memory Craft 6500P (at right) which I have owned for about 15 years. She is off being cleaned and serviced at the sewing machine spa. These machines are still amazing machines with gorgeous stitches and all-metal bodies but are seriously less expensive. I'm a HUGE Janome fan. I've only owned this new machine for a couple of weeks. It probably has less than 3 hours on it so I am still learning about all its bells and whistles, but I have already begun sewing a project without much fuss and I am already in love with it. It's important to note that the base of this machine is very wide and perfect for quilting… but if you do garment sewing and need to place a shirt sleeve or cuff around the base of the machine, this is NOT the machine for you.
The Classroom Companion
As a traveling teacher, I sometimes need to take a machine with me to class for in-class demos. While I would love to take the machine above, I just simply have no room and I would throw my shoulder out taking this to a quick class. Although, I might be tempted to take it to a multiple-day retreat. For classes, I have a fantastic little travel machine called the Janome Jem Gold. This machine is super lightweight, has a fantastic stitch and does a small variety of stitches perfect for class. I even taught a free motion quilting class with this machine and loaned it to a student for the class. It's a perfect companion and not very expensive. This is also a great little machine for a new quilter. Not a lot of variety and it is plastic, but it works great and I would never sell it.
The Piecer's Vintage Dream
If you love a hint of the vintage and only need a straight stitch, you can't go wrong with a Singer Featherweight. I have two of these and love using these for demos in the studio. I'm not a vintage expert at all but I have purchased a couple of these babies for between $200-300 and there are lots of companies that sell them and repair them. All the parts are still available and there are some really gorgeous machines out there.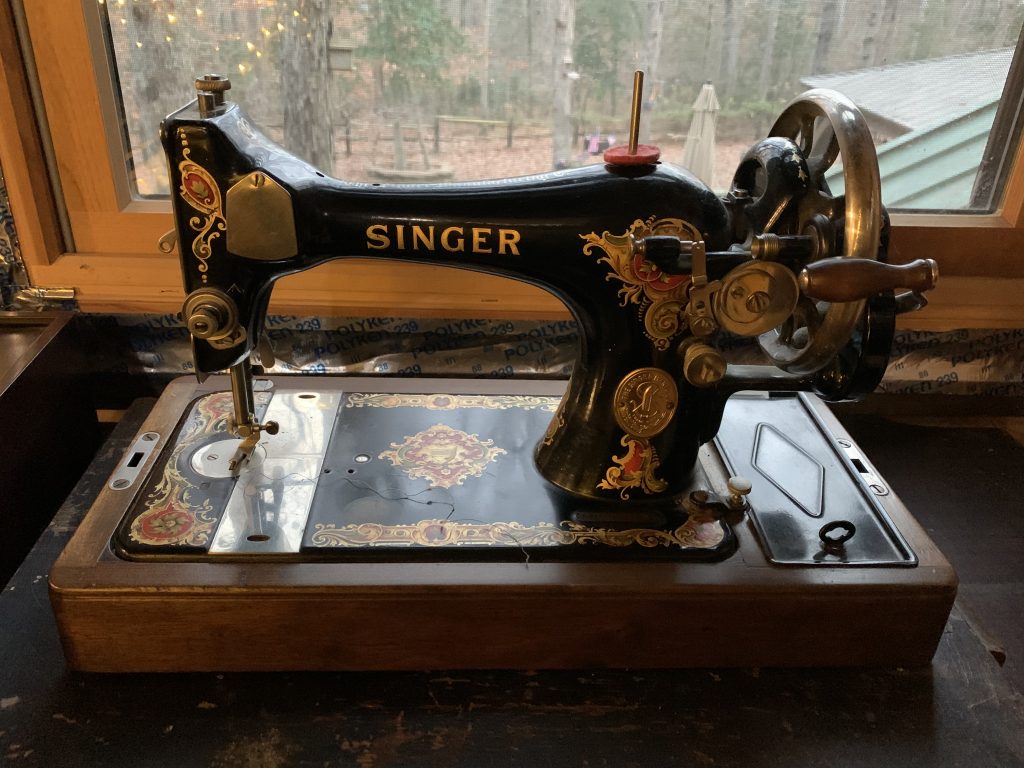 If you are into Vintage Machines and want to be able to sew anywhere, even without power, you can purchase one of these gorgeous hand-crank machines. My husband picked up this little beauty for me from a yard sale many years ago. I was surprised to find out there are clubs and gatherings for people that use only hand crank machines. I can picture myself trying to finish a last-minute project while out at the park with my family. Actually not really. I can't imagine it but I would love to meet the sewist that does. If you have one of these machines or something human-powered and use it… please send me photos. I would love to see what it's all about.
The Serger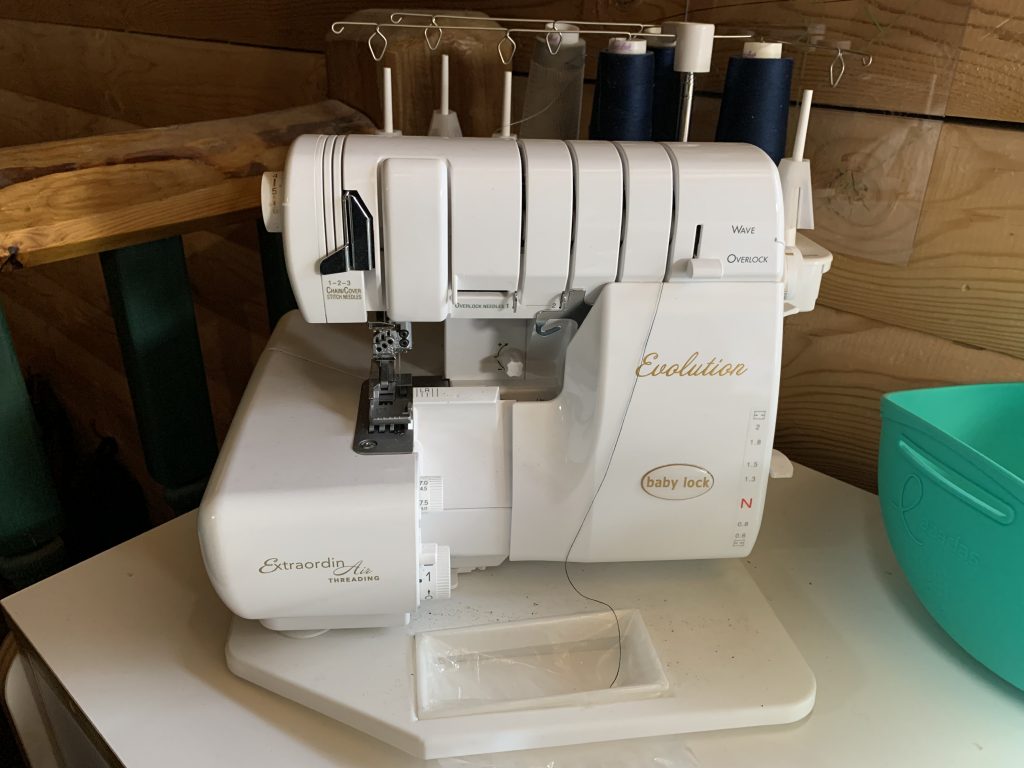 Some of you may not know what these are for. If you have never used a serger, you would be amazed at what they can do. I would show you… but I don't even know all the things it can do. I used to make pajamas for all of my sons and could finish a pair of pajamas in about 20 minutes with a serger. The machine sews, cuts and finishes the edges all at the same time. My serger is the Baby Lock Evolution ExtraordinAIR. I love this machine because it has an automatic air threading system. Sergers are notoriously difficult to thread. Aside from knowing which looper to thread first, they can be very difficult to get to if you have large hands. This machine is gorgeous and was a professional treat to ME from ME years ago.
How much should you spend on a sewing machine?
I have always been given the advice that if you really love something that you should have the best equipment that you can afford to own. I believe in that statement. However, don't overlook really amazing used machines on the market. You can get a gorgeous machine from someone who is upgrading and needs to sell their previous version machine and you can sometimes get some really good deals.
Do you need to own an expensive machine to be good? Of course not! You can get along fine with your grandmother's old machine. Take it to a professional repair service and have it cleaned really well and the timing reset. A service center can clean out the old oil and clean out years of dirt, dust, and grime and make an older machine run like new.
If you are in the market for a new machine, have some thoughts in mind about the types of things you might want to do with the machine before you head to a dealer or show to look. Don't get talked into expensive upgrades if you don't need them. See if the dealer will allow you to rent a machine before you buy it new to make sure it will do what you want. It never hurts to ask.
Also, keep in mind that these are the machines that I sew on professionally but there are many more machines on the market that customers love as passionately as I love mine. Ask to try them when you see your friend sewing on one.
In The Studio
As expected, I was locked in my office for much of the day on Monday, but I did manage to add the side binding on my Sew Together Bag today. One more step towards completion. Only the top binding and last zipper left. I'm getting excited to finish. If you want to know more about the Sew Together Bag by Sew Demented you can check out my blog post about it HERE.
I hope you will take the time to tell me all about your favorite machines in the comments. Until tomorrow, Happy Quilting!