Happy New Year.
It's the start of a brand new year of programs and products here at the Cabin. Just like personal resolutions to eat better and live better, I have made some resolutions to bring you new products and product reviews, tutorials, patterns and books, and new classes. I am hoping all of you will make a resolution to stop by and regularly visit to interact with me this year. Keep your eye out for special events and giveaways and lots of interactions with my fellow designers.
Smooth Segue
Speaking of new products, I would love to start out the new year with a giveaway on the blog from my new friends at Eucalan who are celebrating 25 years of fabric care this year. I don't know about you, but I have lots and lots of fabric. For those of us that love to fondle our beloved cotton collection, we want the best to care for it too. That's why when I was asked by Eucalan to try some of their products to clean and care for my fabrics and tell them what I think, I was excited to give it a try. Of course, as always, you will get my honest opinion about how I felt about Eucalan and whether I think you should give it a try.
Disclaimer*
First, let me tell you that Eucalan sent me their products to try at no cost to me and are allowing me to give a product review to all of you. They were also excited when I told them that I would love to provide you with an opportunity to try Eucalan as well so at the end of this post you will have a chance to win a bottle for yourself.
From my friends at Eucalan
Eucalan's name comes from a combination of its original ingredients: Eucalyptus and Lanolin. Their product information says it is a delicate, no-rinse wash that is perfect for caring for handmade items like our quilts. The formula is non-toxic, pH neutral, biodegradable and free of all the bad stuff that will ruin your fabrics like phosphates, synthetic fibers, dyes and optical brighteners. Eucalan sent me 100ml sample bottles in all five scents to try on my fabrics at home.
How does it work?
Well, right after the package arrived I found myself with a need to try it. The weather turned cold here in Virginia, and while bundled up I spilled something on my favorite blanket scarf. I was afraid to wash it and needed something that was not only delicate but didn't set off my mass of allergies to all scented soaps known to man (just a slight exaggeration.)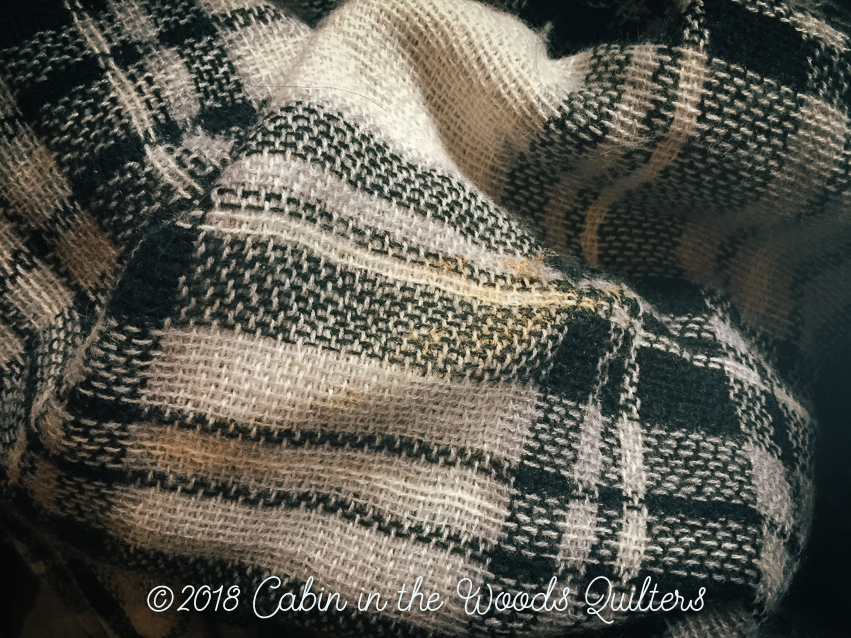 I opted to try Eucalan's Wrapture with Jasmine. It had a very intriguing scent, and since I use my blanket scarf to bundle my face to protect myself against the bitter elements, at least I can smell something sweet while I am under the bundles.
I followed the soaking instructions on the bottle and submerged the garment in some tepid water with the Jasmine wash. I noticed immediately that the product didn't create suds. The bottle said to soak the garment for approximately 15 minutes, so I asked Alexa to set a handy timer (more about her in a later blog post) and went back to the design board. When I went back to the basin after the timer, you could see a slight tint to the water, but it wasn't the color on the garment. The stain was gone, and everything smelled delightful.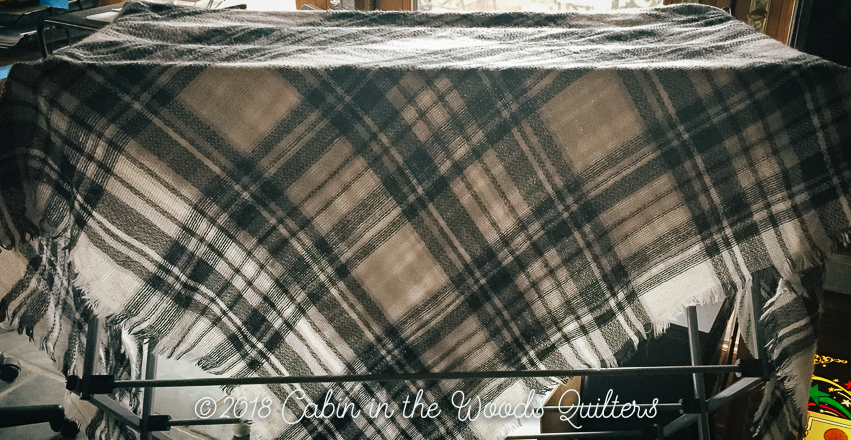 My experience
Eucalan says their wash is a non-rise formula, so I gently wrung out the scarf and laid it on a drying rack to dry. The scent was lovely, and I smelled it every time I walked past the scarf. First, I was impressed with stain removal. I was very skeptical the wash would get the garment clean without suds, but it came clean. It also has this lovely soft feel to the scarf. It is smooth but not greasy, sticky, or soapy and the garment has much less static, which is very hard to control in the winter months. I found Eucalan to be a lovely product so I went back to their website to read more about it to figure out how useful it would be to me.
There was no doubt that Eucalan is an excellent product for my knit sweaters and scarfs. Other product reviews say that it is great for all delicates. Which means this would be a useful addition to my travel pack. Since it is a non-rinse product, it would be great for travel. Eucalan thinks so too as they make an entire travel pack. But how does this pertain to quilting you might ask?
Why might I use it?
Eucalan uses the properties of essential oils in their formula. Grapefruit, for example, is a natural disinfectant. Eucalyptus and lavender have moth-inhibiting properties which could be very useful for cleaning and storing your quilts with wool batting. Wool batting is one of my favorites because it is lightweight but still quite warm on a bed. It also holds decorative longarming stitches nicely, it's a dream to quilt with, and it lays flat on displays when my quilts travel from venue to venue with no visible folding creases. But wool can be challenging to clean and storing poses challenges because of its attractiveness to moths. Washing your quilts with a moth-inhibiting scent could help to deter those pests from destroying your quilted masterpiece.
The website says the product is great for top loading and front loading washing machines as well. I would have to agree that the delicate wash contains very few if any traditional suds so I would agree that it would work in a front loading washing machine and would be more delicate on garments and handmade items than a harsh detergent.
My humble opinion
My honest review of Eucalan delicate wash is two thumbs up. I enjoyed the scent, and the scarf hasn't caused the sneezing and itchy hives that most products do when they are up around my neck. I would consider using this wash for all my delicate fabrics, sweaters and beautiful quits to clean and freshen them without harsh chemicals.
Where do you find it?
Consider picking up a couple of bottles to giveaway with your handmade projects so the recipients of your beautiful gifts will know just how to take care of them to last a lifetime. You can also pick up Eucalan in a travel gift set with stain wipes as well. Eucalan is readily available on their website as well as Amazon.com.
Be sure to check out Eucalan's website to see all the products they have to offer as well as their laundry and eco-friendly cleaning tips for all types of things and their tutorials on YouTube. Check out Eucalan on Facebook, Instagram, Pinterest, and Twitter. If you would like to try a sample bottle for yourself, leave a comment on our blog telling us how you would use Eucalan. I will draw a winning name on January 25th to receive a free bottle of Eucalan to try provided by the company just for you.
Thanks for stopping by to see me this week.  Don't forget to leave a comment on the blog to enter to win your own bottle of Eucalan or you can just comment and say hi and tell me what you're working on this week.
Happy Quilting
~Penni